Billie Eilish, for those of you who are not familiar, has recently become one of the most successful American singer-songwriters of 2020 – but if you haven't been living under a rock, you probably knew that. She tackled a topic on her World Tour that she's dealt with more than her fair share since she got into the music biz: body-shaming.
The now 18-year-old Eilish decided to bare it all at the American Airlines Arena in Miami, on a voiceover video of herself to showcase why people's opinions on her don't matter. She made a bold statement telling everyone should have the freedom to do whatever they want, including herself.
Using A Platform To Fight Body-Shaming
The video was showcased on the opening night of her new tour in March. Elish used it as a preface to her song "All Good Girls Go To Hell." The video showed Eilish removing her jacket while commenting on her own action: "The body I was born with, is it not what you wanted?"
A Bold Statement
Fans captured the video footage of Eilish quite literally shedding her layers, while talking about the criticism she had to endure since she became famous. She goes on to say: "If what I wear is comfortable, I am not a woman…who decides what that makes me? What does that mean? Is my value based only on your perception? Or is your opinion of me not my responsibility?"

Unique Style
Eilish has always turned heads with her unique fashion style that consists of baggy jeans, oversized t-shirts, and other apparel that hides her figure. There's a reason for that. In the last Calvin Klein ad she said: "Nobody can have an opinion because they haven't seen what's underneath," she said. "Nobody can be like, 'She's slim-thick,' 'She's not slim thick,' 'She's got a flat ass,' 'She's got a fat ass.' No one can say any of that because they don't know.'"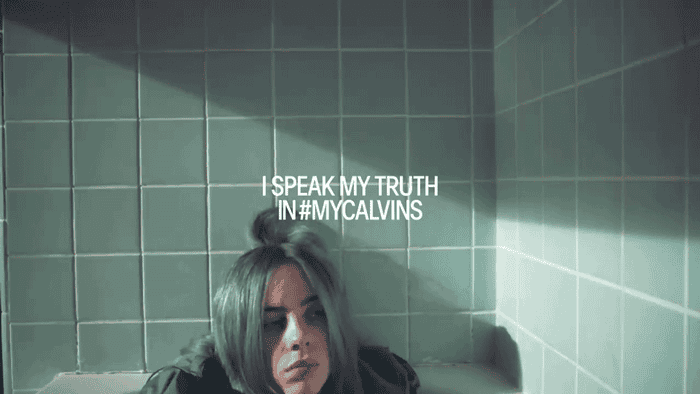 Objectified
Celebrities are being constantly criticized and objectified. That's why Eilish is very candid about making her voice heard loud and clear. Judging by the crowd's reaction, they agree with her opinion. She can do whatever she wants, and nobody should tell her otherwise.