Cooper's Sandwich Shop
When most dogs are caught stealing food, they might get admonished or they might even get put outside for the remainder of dinner. That's not what happened to Cooper!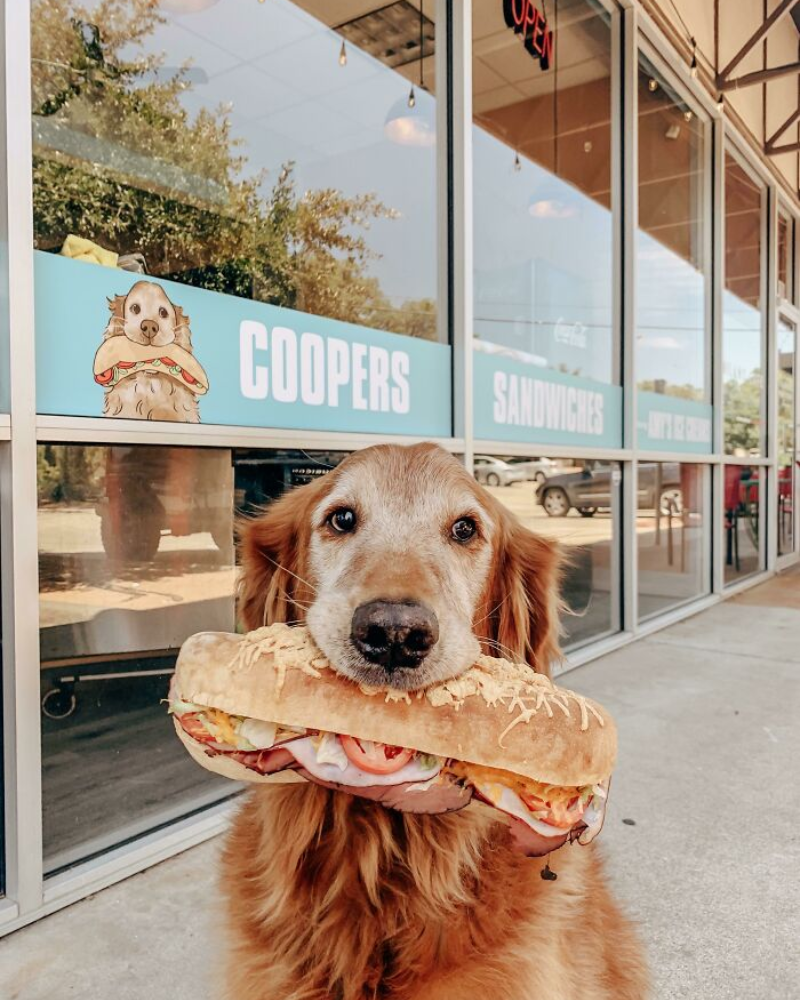 In fact, five years on, his owners decided that he actually had a pretty good business plan with this one. Plus, who could say no if this face wanted you to buy a sandwich? He's great for business!
What Have You Done?
Who could say no to a large slice of watermelon on a hot day? They were just left there like they were meant for this pet.
As it turns out, this pet wasn't just caught red-pawed but red-mouthed as well. Even if he managed to get away without getting caught taking a bite, his owners would have probably noticed that he was wearing some new watermelon lipstick.
A New Hiding Place
If you've ever had a cat, you know you have to keep an eye out for the things they might take to hide away in random spots in your house.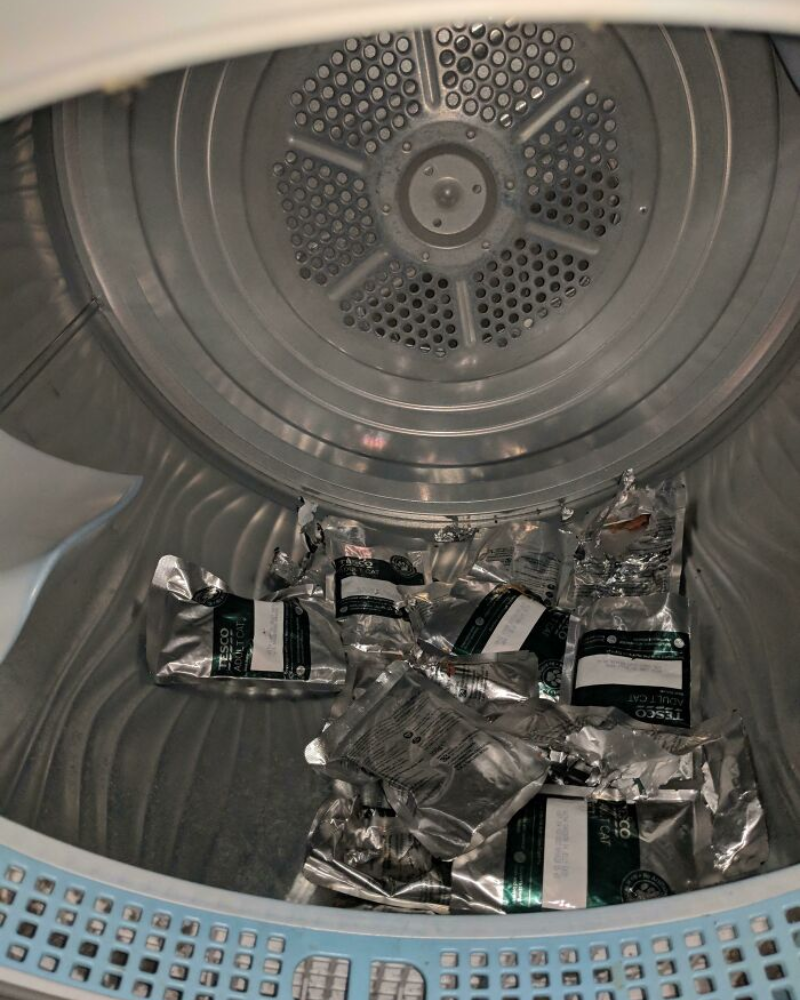 This family got a bit of a surprise when they went to do laundry one night. As it turned out, while everyone was at work, the cat of the household managed to find all their food and hide it away in the dryer for later.
Nothing to See Here
There are times that you don't exactly catch your puppy in the act but the evidence is everywhere and you know what they've done.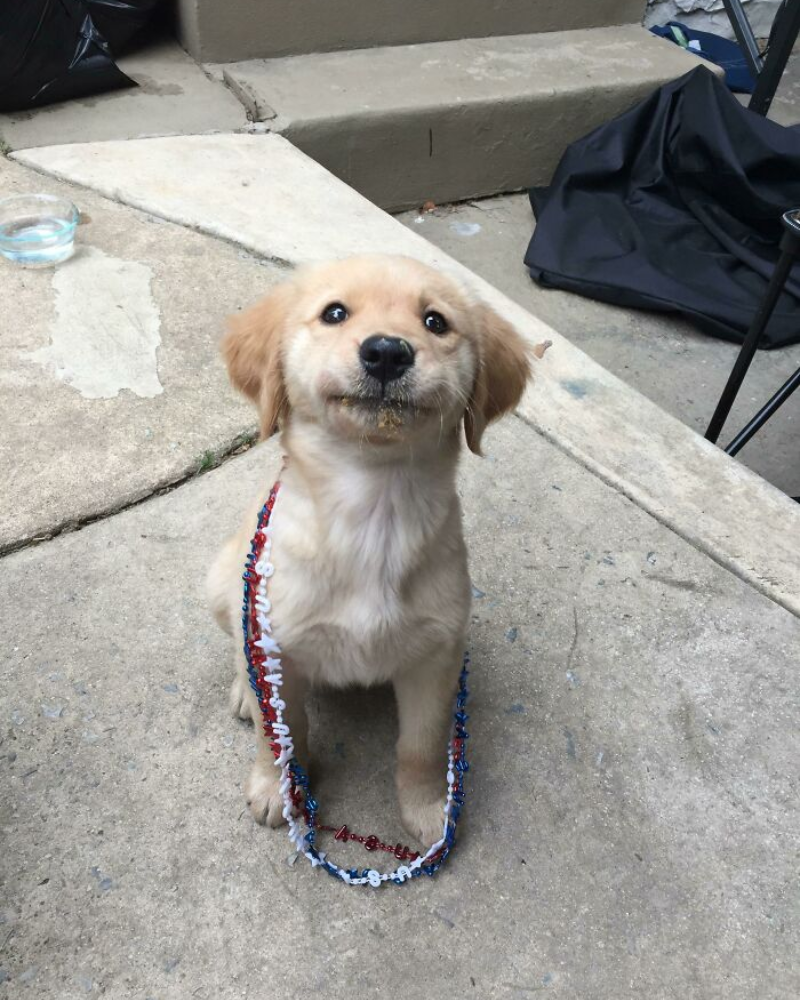 This little lady wasn't caught in the act of eating peanut butter from the jar. But, you don't have to look very closely to notice that her little snout is covered in bits of peanut butter, probably from being nose-deep in the jar. She doesn't know how it happened, she swears!
He Just Wants a Bite
When you're out and about, you might get a little hungry on your walk. So, perhaps you want to stop by somewhere local to grab a snack.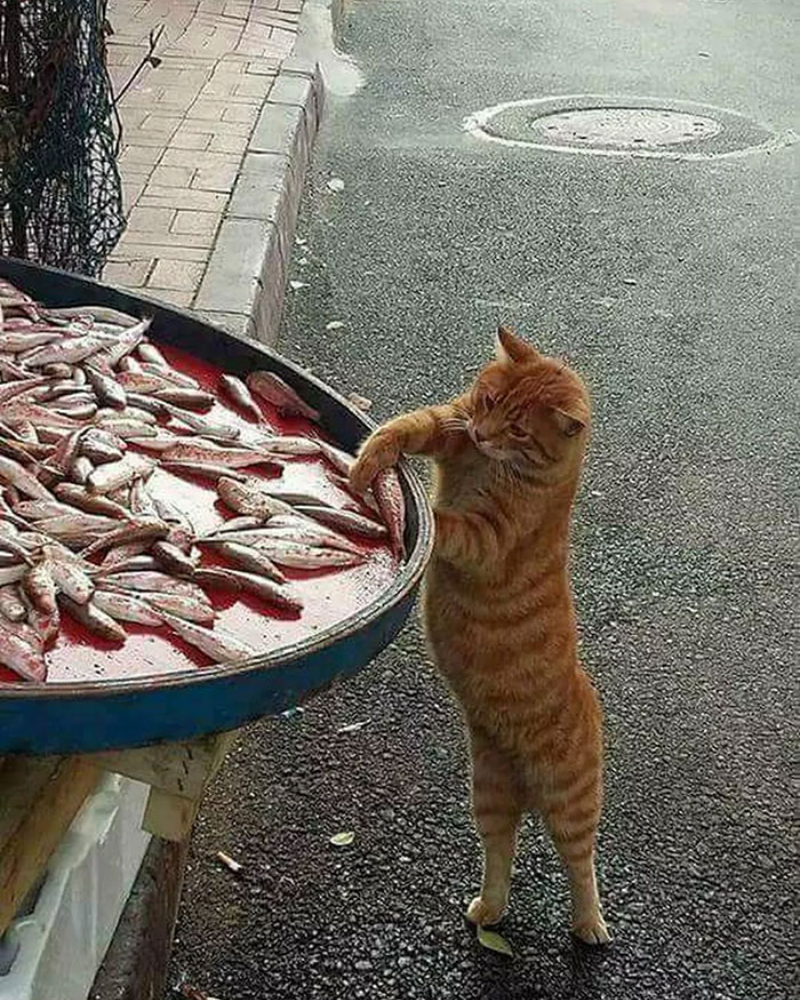 This cat was no different! Of course, he doesn't exactly have the money to pay for the fish he's grabbing but who could say no to that face anyway? He must think it's his lucky day, finding so many fish.
Elephants Too
When you think of pets stealing snacks, you often think of cats, dogs, and maybe even the occasional rodent pet.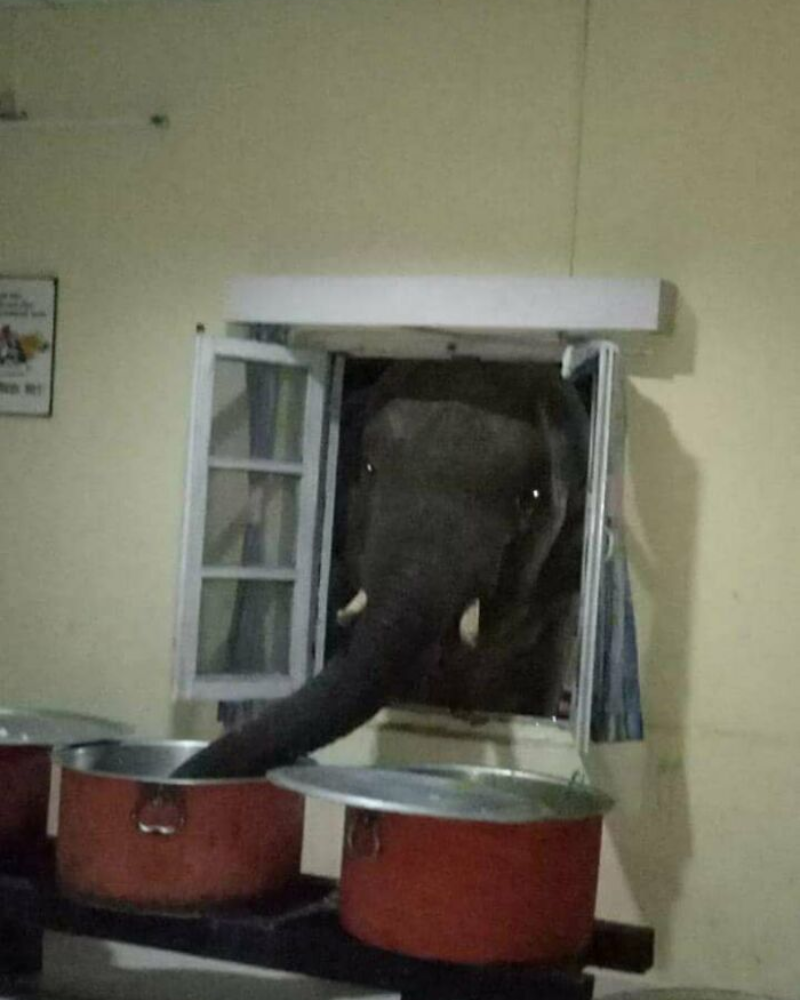 You probably don't think about an elephant coming in to steal your dinner. When someone went to check the military mess in Binaguri, West Bengal, India, this elephant was just popping in for a midnight snack. He just wanted to dine on their leftovers — is that too much to ask?
Not Hiding Anything
Hamsters are smaller than pets like cats and dogs. However, they're still mischievous in their own right and can get into some trouble of their own.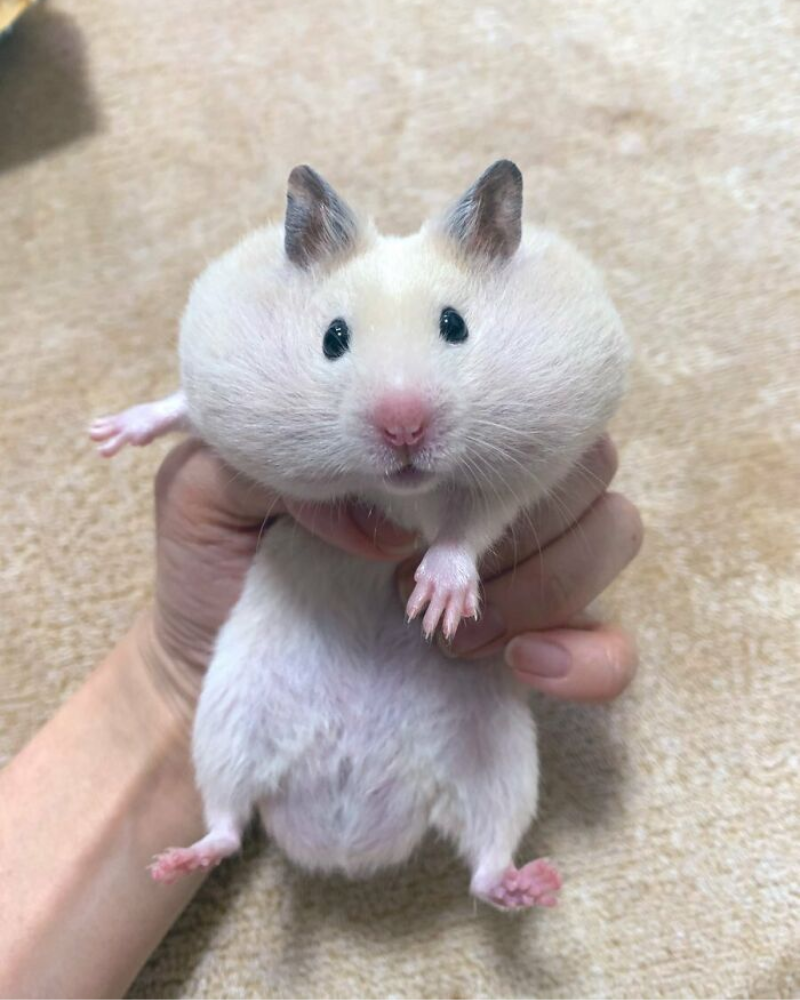 For example, a hamster is still fully capable of stealing your food. This guy's owner said he was out stealing snacks when he was caught red-pawed. If you ask him, though, he might just say his cheeks always look like that — there are no snacks in there!
How Did You Get in There?
There are some things that you don't expect to see because you simply don't think it's possible for it to become a problem.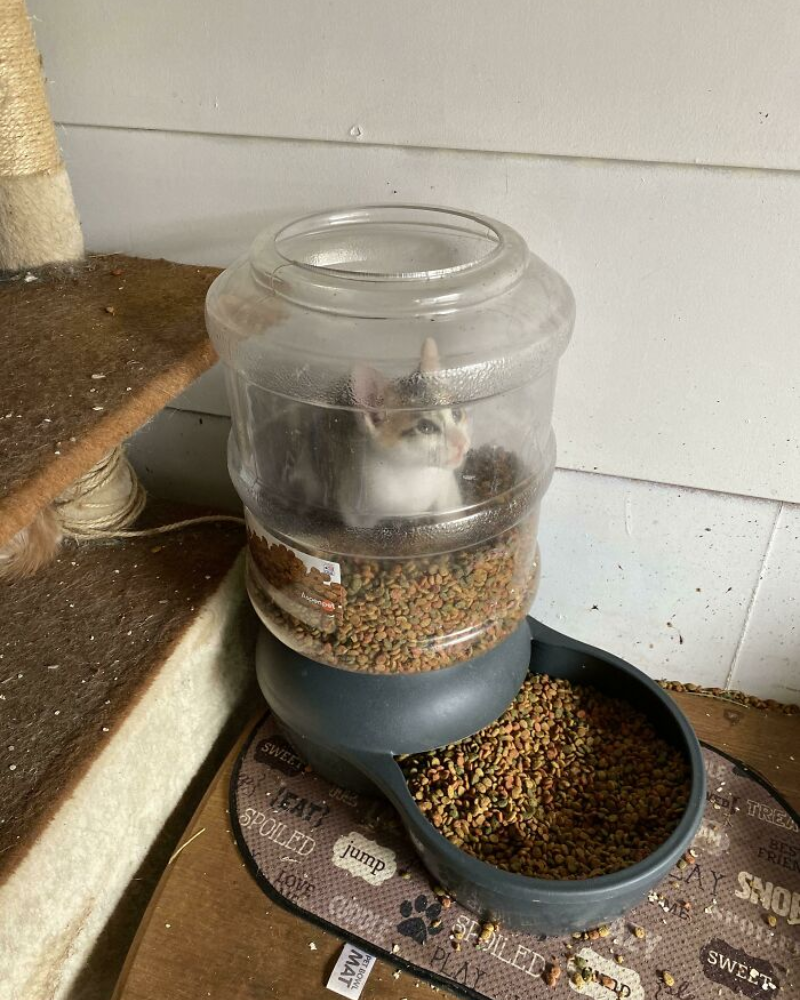 This little kitten is a testament to the saying "where there's a will, there's a way." We're not quite sure how he pulled it off, but he managed to get the top off his food and jump right inside! He was probably in heaven until his owners came to pull him out.
He Just Wants a Bun
One funny thing when your pets steal food is that they try to get whatever they can, no matter if it's the main course or side dish.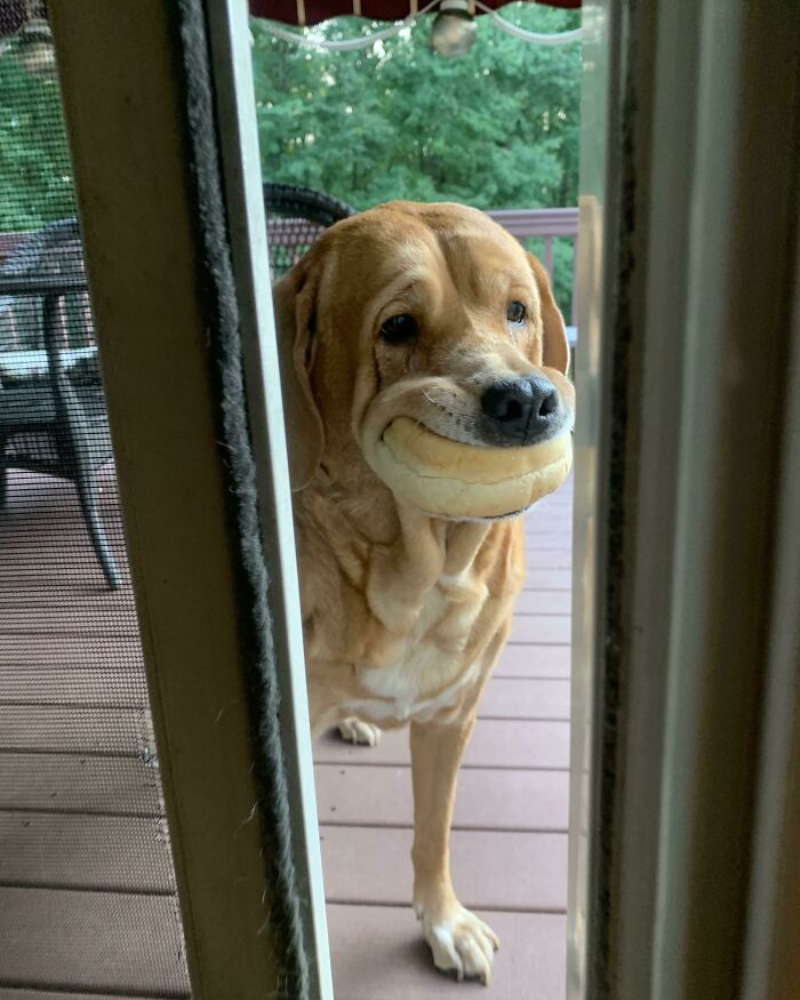 We're sure that there are other tasty things that this guy's owner made to go in these buns. Yet, how are you supposed to fix up a whole burger when you don't even have thumbs? He might have gotten away with it too, had he not stood right in front of the door.
And She Wants Even More
We looked at one dog that was waiting for his chance to enjoy a few tasty carbs. Of course, he could only steal so much so fast. The same isn't true for Isabelle here.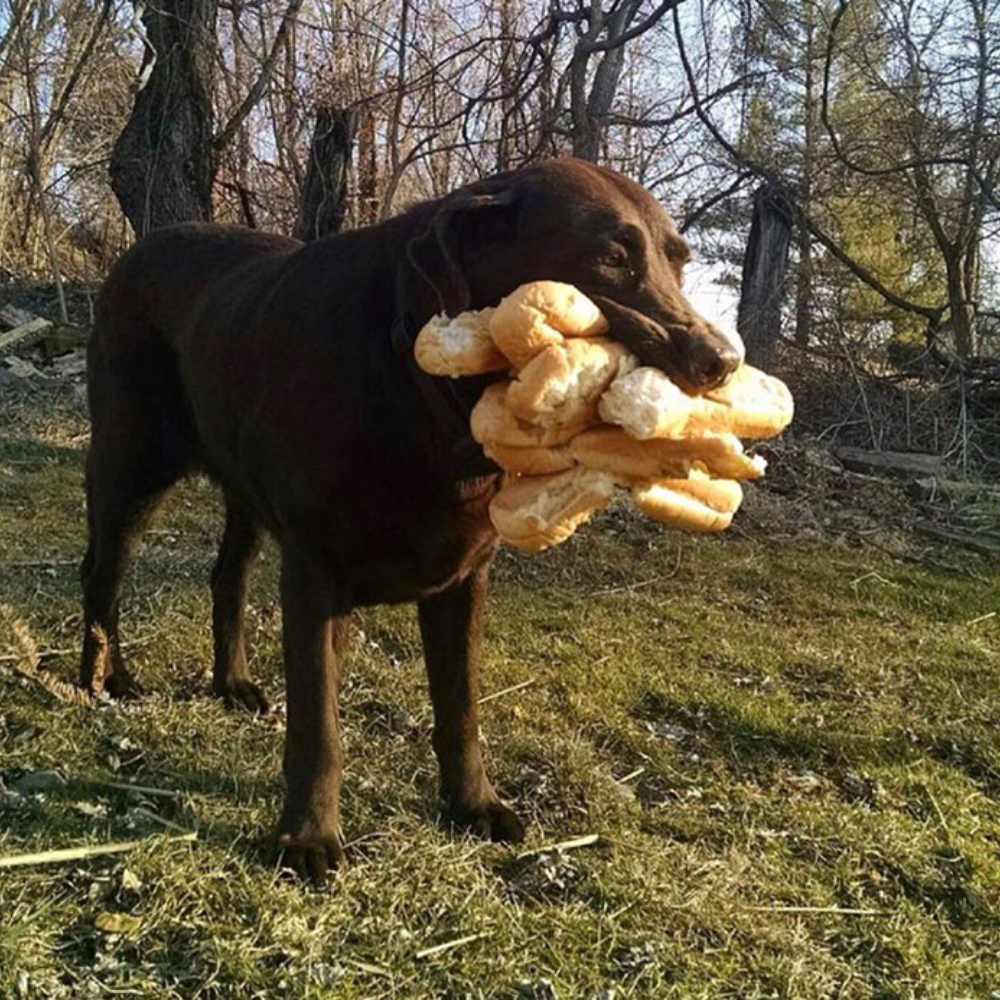 It seems like she was all about maximizing her haul when she had a moment alone at the table. In fact, it looks like she made sure to grab everyone's hoagie rolls as soon as she got the chance.
Look What I Found!
Cats are known hunters. So, it's not much of a surprise if you're cooking meat and your feline friend tries to steal a little bit. That's not exactly what happened here.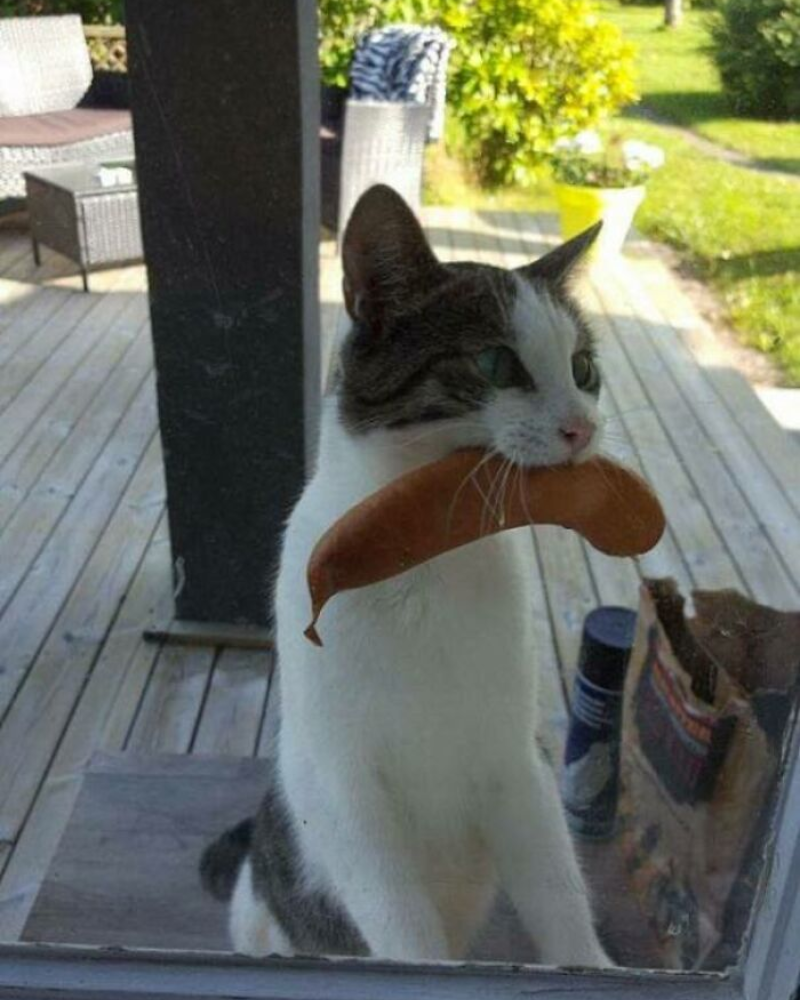 These owners were left a little confused when their cat returned from a stroll with this sausage in its mouth. They went hunting for the family so, it looks like another family in the neighborhood is short a sausage tonight. We wonder if they saw it happen or if they're just confused as to where the last one went.
That's Not What That's For
When you make a snowman, you need everything perfect to complete it. That includes making sure there's a carrot handy to build him a nose. This person watched their nephews work hard to build their snowman.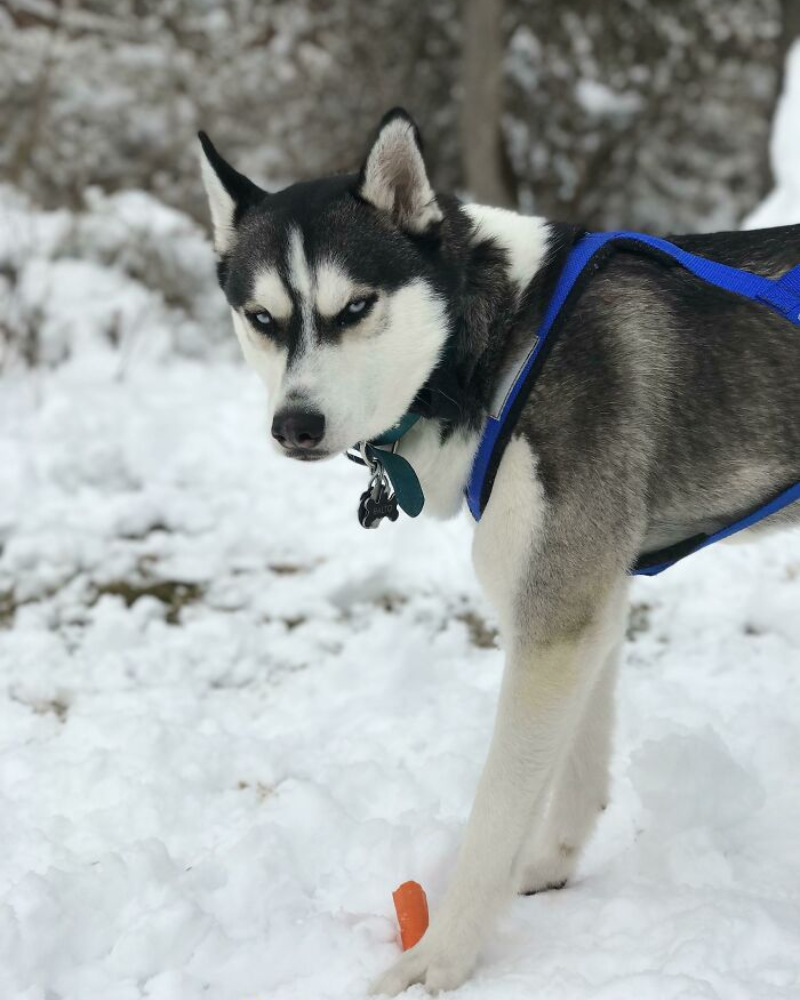 Moments later, they watched their dog run up to the snowman and use his nose as a snack. We suppose it didn't hurt the snowman but we're sure this person's nephews didn't appreciate it. He looks so mad about it, too!
Nothing Suspicious Here
Sometimes, it's shocking to see just how much expression our pets can have — many times, it seems like they can't hide anything they do.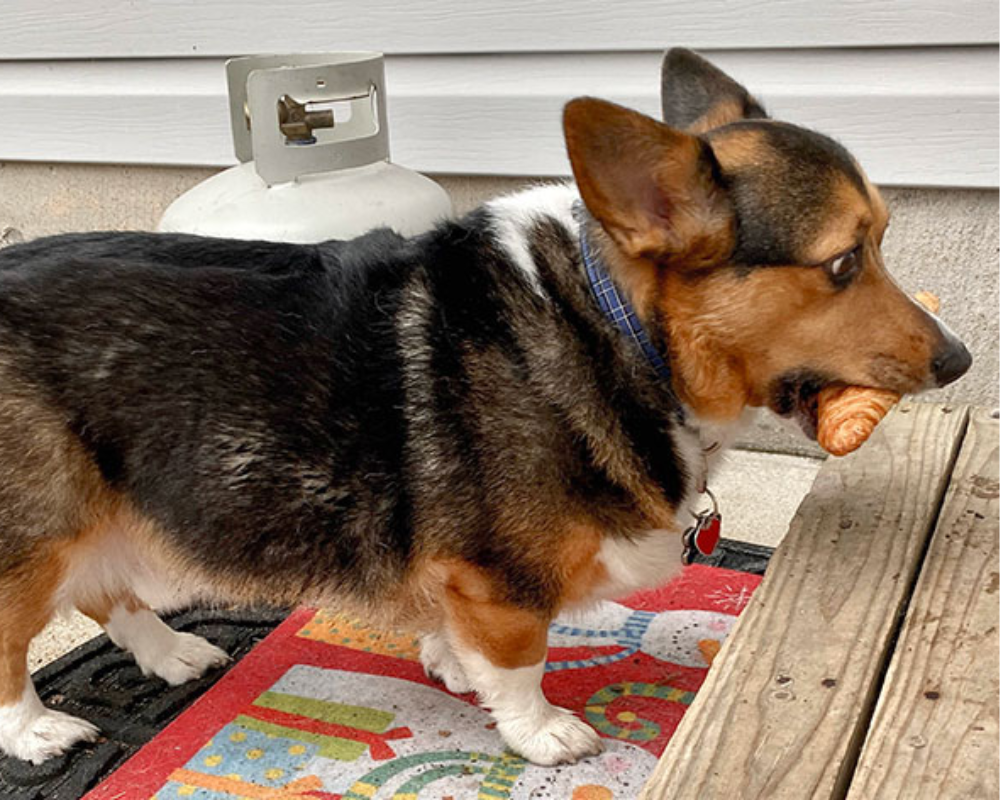 It looks like this little four-legged croissant wanted a croissant of his own when this picture was snapped. Some dogs really have perfected the art of acting casual. This guy looks like he might need a little more practice judging by the guilty face. He just wants a snack!
Bringing You a Gift
If you have chickens, you don't need to pay for eggs. After all, you have the animals that make them right outside! This family, unfortunately, didn't have a chicken of their own.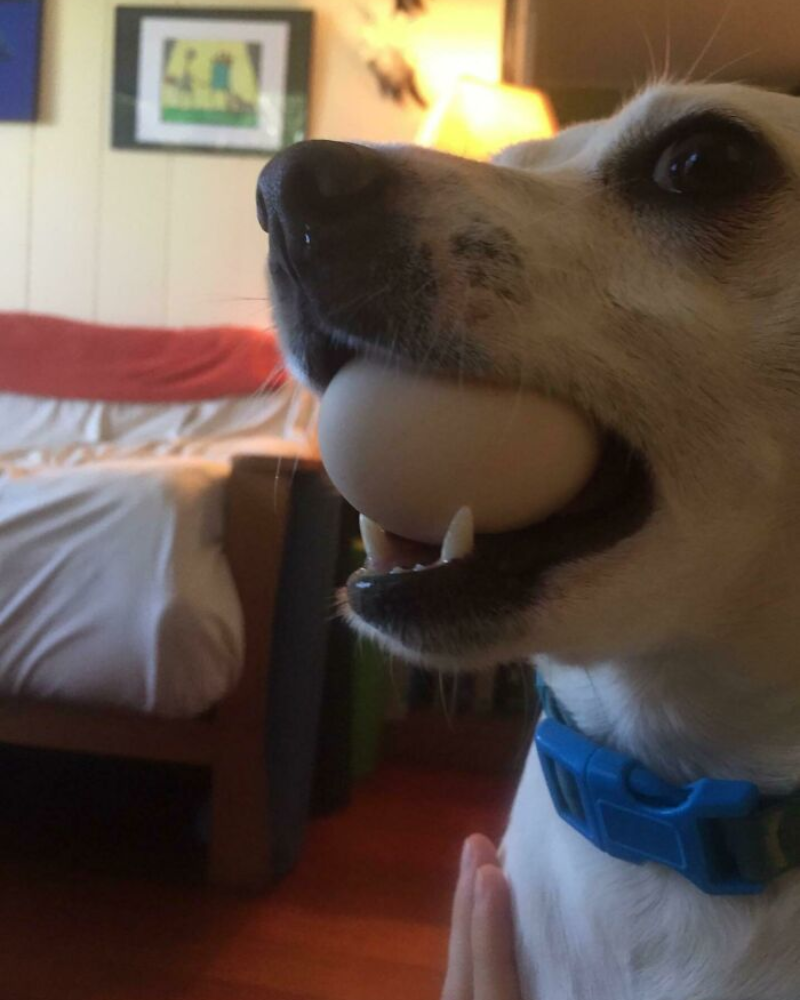 Fortunately, though, they apparently don't have to worry about running out of eggs. They have this pup to bring them their own supply, freshly stolen from the neighbor's flock. They won't miss one every morning, will they?
Not Just Dogs and Cats
As we've already seen, it's not just dogs and cats who get in on stealing food. All sorts of pets love a snack and will do just about anything to get it.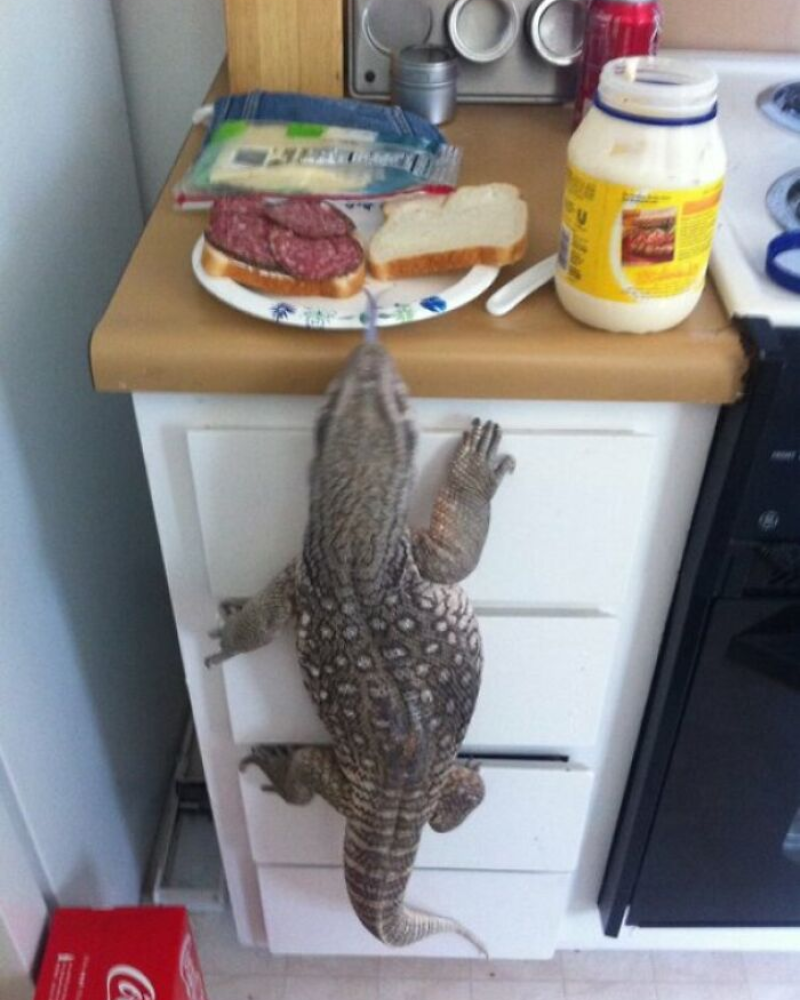 While you might expect a cat to be agile enough to make their way on the countertop, did you expect the same from a lizard? This big guy wasn't about to let a bit of height stop him, especially when there were these convenient drawers to climb!
Not the Squash
There are times in which your pet stealing food can have some consequences. For instance, you might have to deal with an upset stomach or even take them to the vet for some quick care. Luckily, this dog's health is safe.
As for this family's dinner, not so much. Their neighbor was trying to be nice by dropping a squash off for this family by their back door. However, judging by this dog's face, she's not about to share it with her humans.
Merry Christmas
When it's the holidays, everyone wants to celebrate. That includes the pets in your household who might think they deserve a treat for the holiday as well.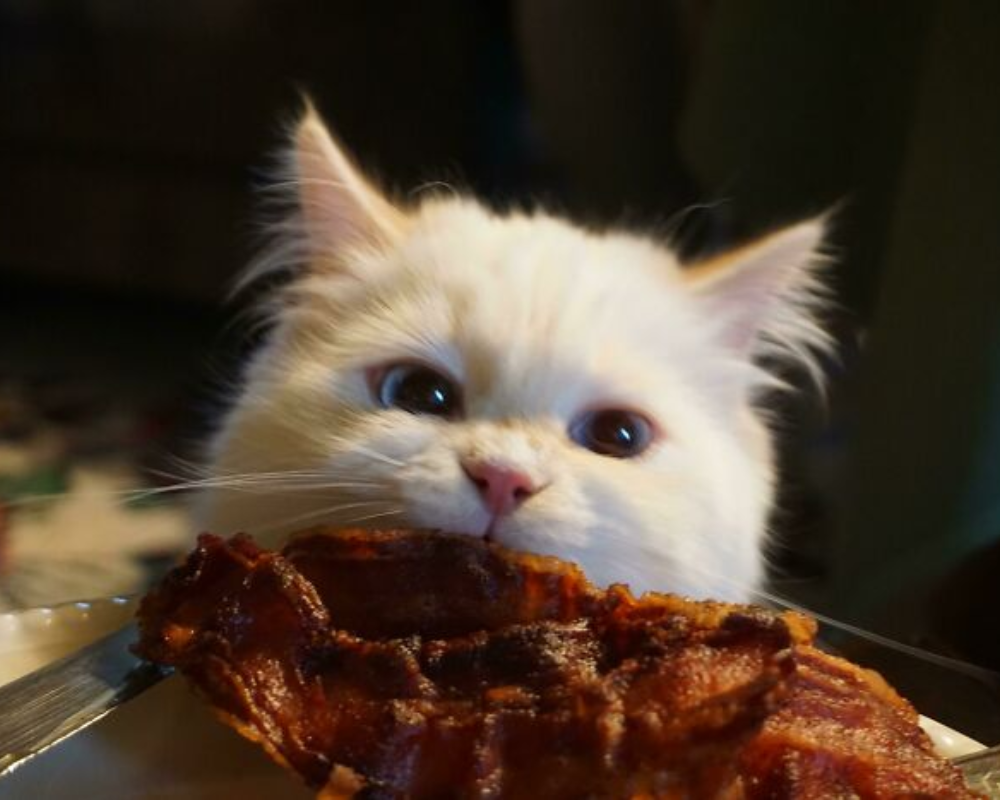 This cat saw their family cooking the Christmas bacon and she couldn't help but try to steal a bite for herself. With a face like that, though, how could you possibly take it away from her? Well, we can only hope that this bacon thief got a tasty bite!
You've Got a Little Something
Like we've said, there are some things that really let you know when your pets have been acting up. They aren't always the best at covering their tracks.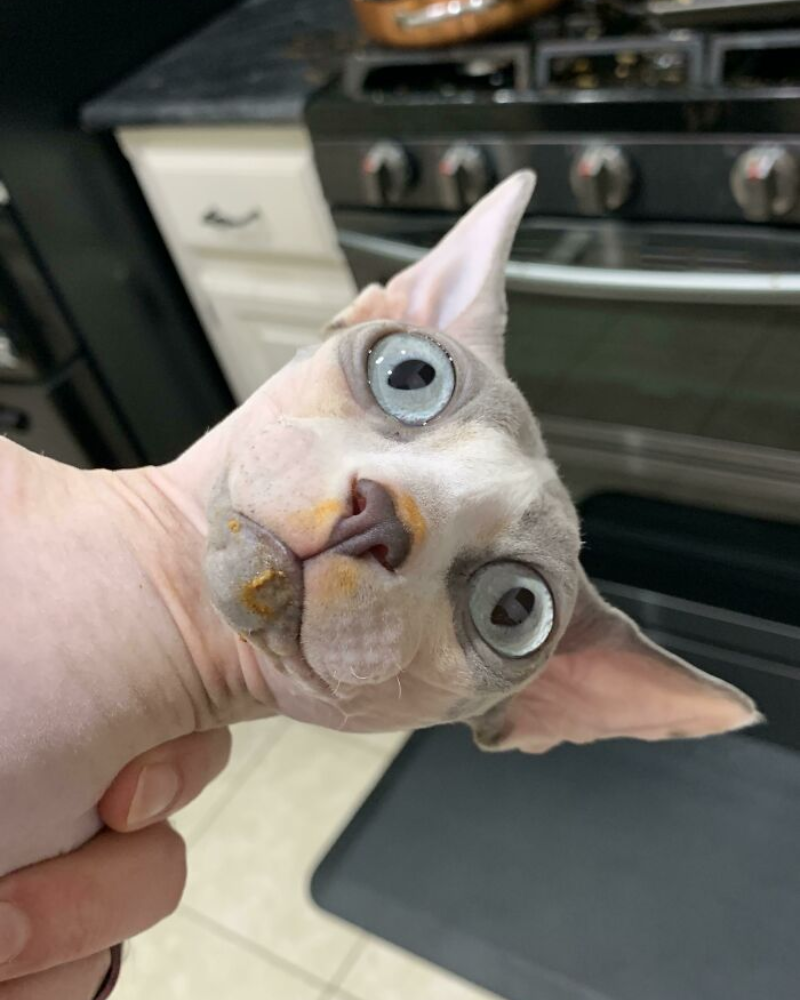 This cat didn't have fur to get the food caught in but that apparently didn't stop them from getting a little something on their face. Those wide eyes look totally innocent too… how could their owner have caught them in the act?
Cue the Mission Impossible Theme
There are some movie scenes that stick in your head forever. Tom Cruise being lowered into the room for a Mission Impossible heist is one of them.
It's a scene that this cat clearly saw and got a few ideas from. Their parent was just trying to enjoy a tasty snack when this cat descended from above to grab the last few crumbs. The eye contact in the last photo really shows how they were caught red-pawed.
How'd You Catch Me?
There are moments when your pet thinks they have it down. No one saw them commit the crime and they even have the perfect puppy dog eyes on. What's there to complain about?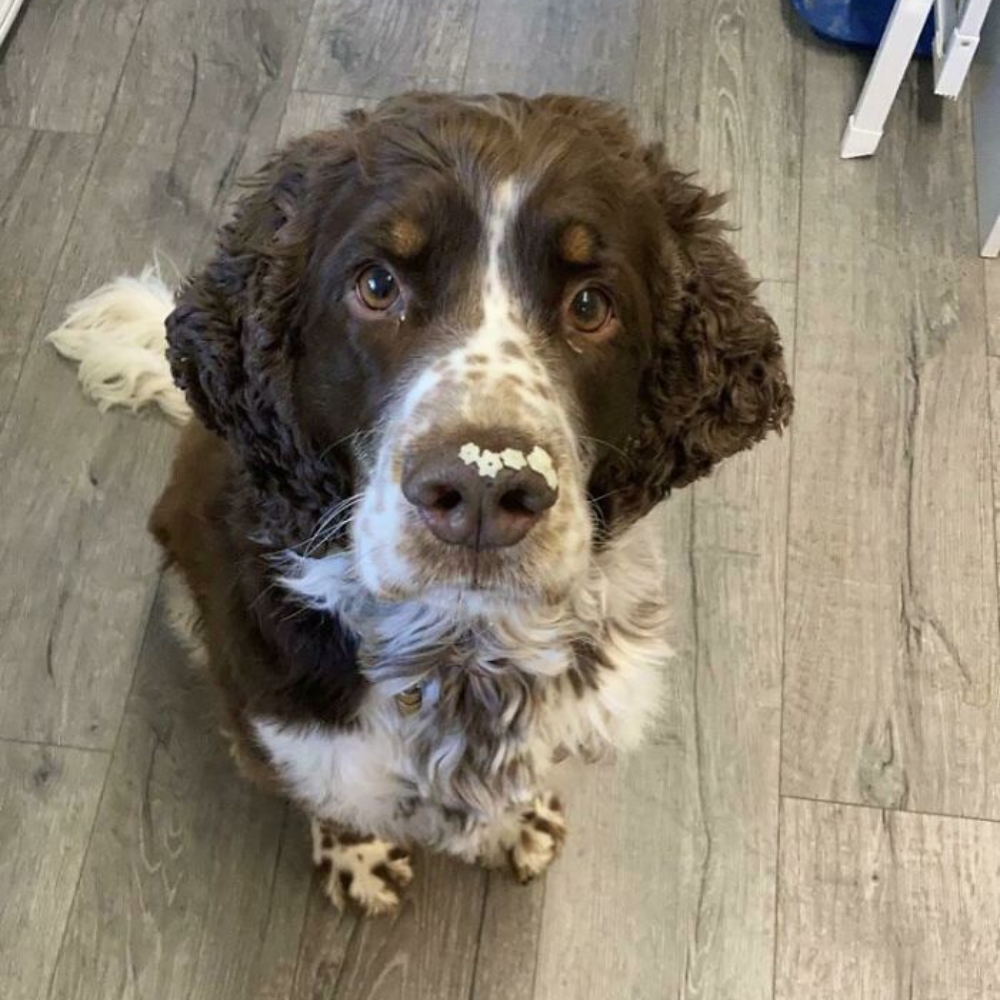 This dog surely didn't see any error in his ways. He's just a cute little pup who needs some love, right? Well, his owners might be more apt to believe that if there wasn't a collection of pastina sticking to this pup's "innocent" snout.
Just a Taste
There are some things that just look so good, your mouth begins to water and you can't get it to stop until you've had a bite! This cat clearly wasn't going for subtlety here.
Even through a picture, it's easy to understand this little guy's intentions. He's already got his tongue out, ready for a taste! How could you say no to an entreaty like this?
Oh, I Didn't See You There
Before our pets can get away with their well-thought-out or oftentimes just flat-out impulsive behavior, they have to pull off the crime itself.
Now, when they're stealing food, they look pretty guilty. You can't get caught much more red-pawed than this little fella. We have to say, he was probably just as surprised to see his owner when he pulled his head out of the bag.
A Real Whodunnit
Sometimes, getting caught red-pawed doesn't necessarily mean that they were caught in the act with the crime on their hands. There are times things go a little differently.
To start, this pet parent wasn't quite sure what happened to the grease pan. Of course, much like walking in the snow or mud, stepping in grease is going to leave a trace. This perfectly preserved paw print led them right to the culprit!
Look What He Got!
If we've learned anything at this point, it's that pets will steal from just about anyone, no matter their relationship.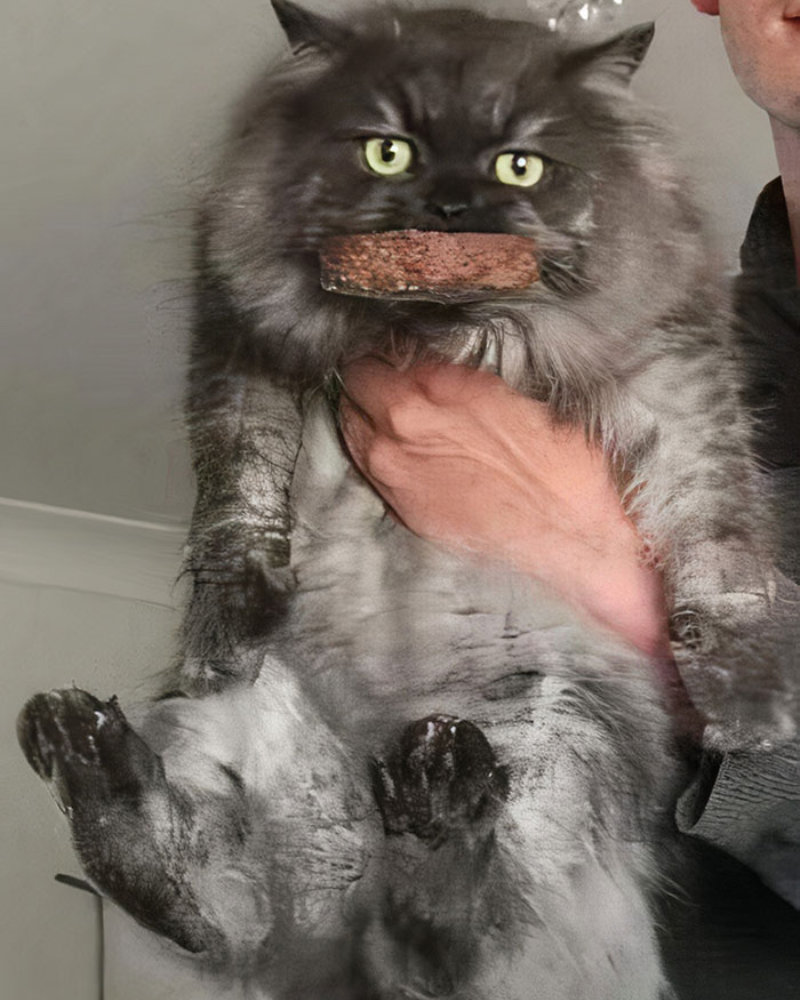 When this cat's owners showed up with a hamburger, they laughed and were a bit confused. As it turns out, he'd made a trip to the neighbors to steal from their barbecue. We're not sure that this is the best way to make a first impression but they surely can't stay mad at this little thief.
What Egg?
You've probably seen a video or two online of people giving their pets an egg to see how gentle they are with the delicate object. That's not exactly what happened with this family.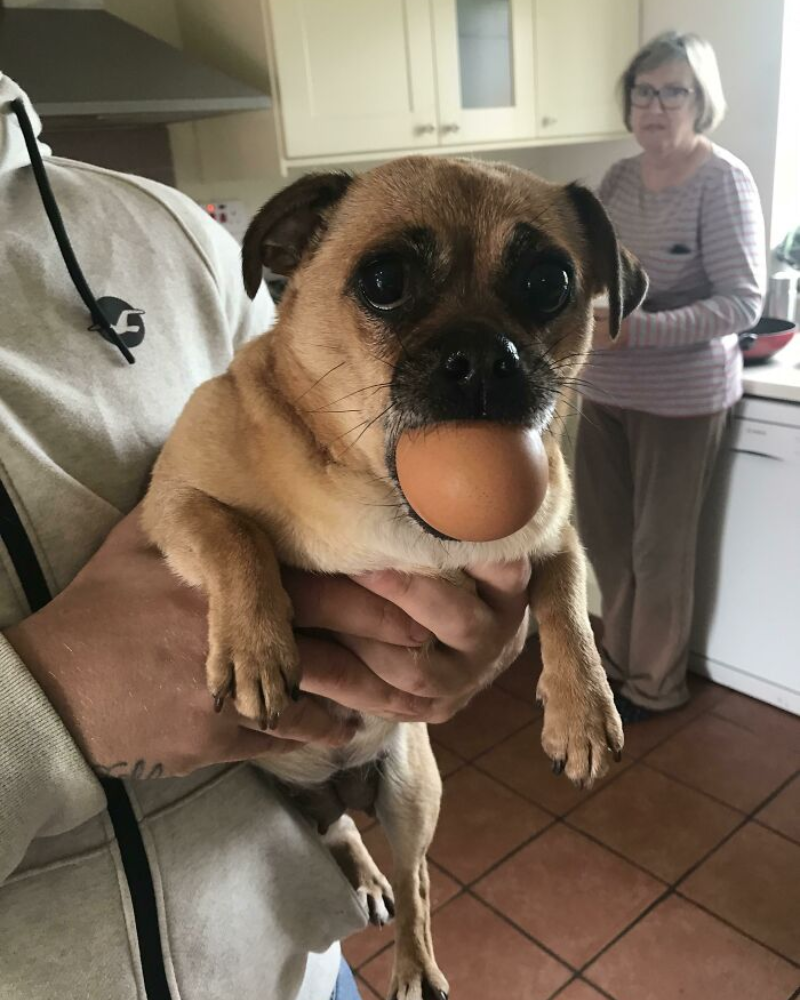 In fact, they were just about to start making breakfast when they noticed that they were short an egg. One look at this guilty face revealed the culprit without too much of an investigation. Hey, at least she didn't break it.
Stealing a Date
When you have a date, you probably look forward to it. If it's a dinner date, you might try to impress by making the best food possible.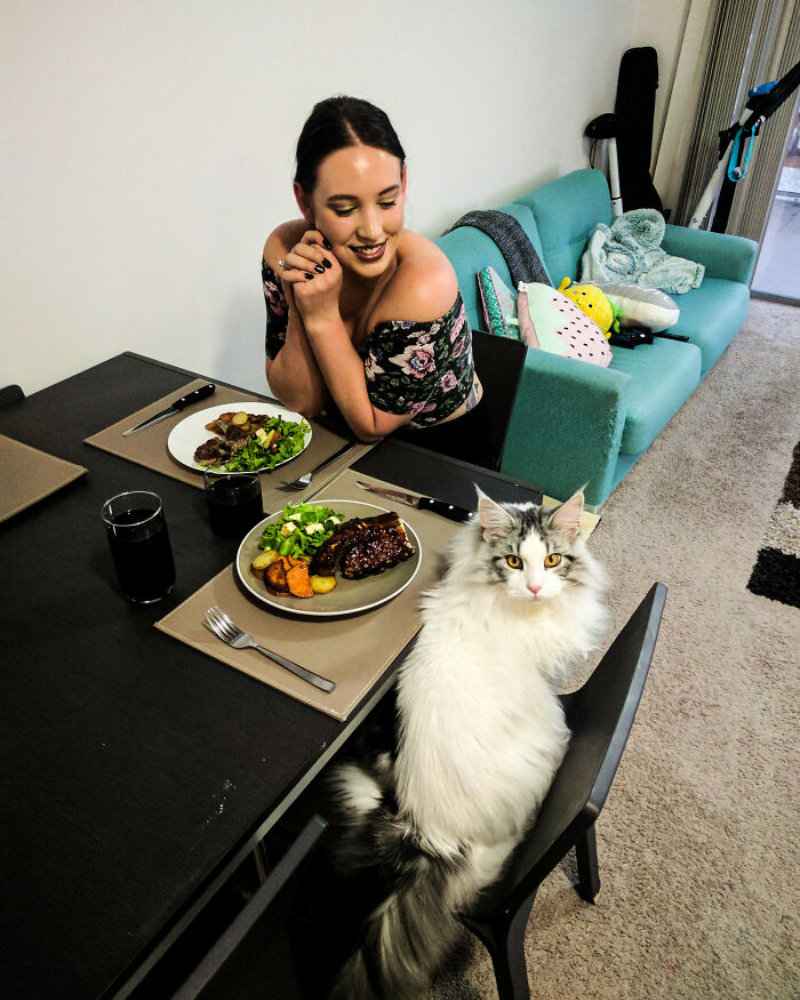 If you do that, though, can you really blame your cat for noticing that there's something really tasty on the menu? It seems like this cat thought the best way to get a taste was to take over the date entirely.
What Do We Have Here?
There are times when your pets are so sure they got away with their crimes. This kitten criminal looks shocked that he was caught in the act. When this person saw something on their cat's beans, they realized what he had done.
So, that's why he'd had so much fun licking his paws that day! Judging by this sight, this human found out exactly who stole that sausage earlier. Maybe this guy was caught "greasy-pawed" instead of red-pawed.
Look at That Smile!
Not every pet is just after the scraps they catch off the floor or the last bits of your dinner. Some want things right from the source.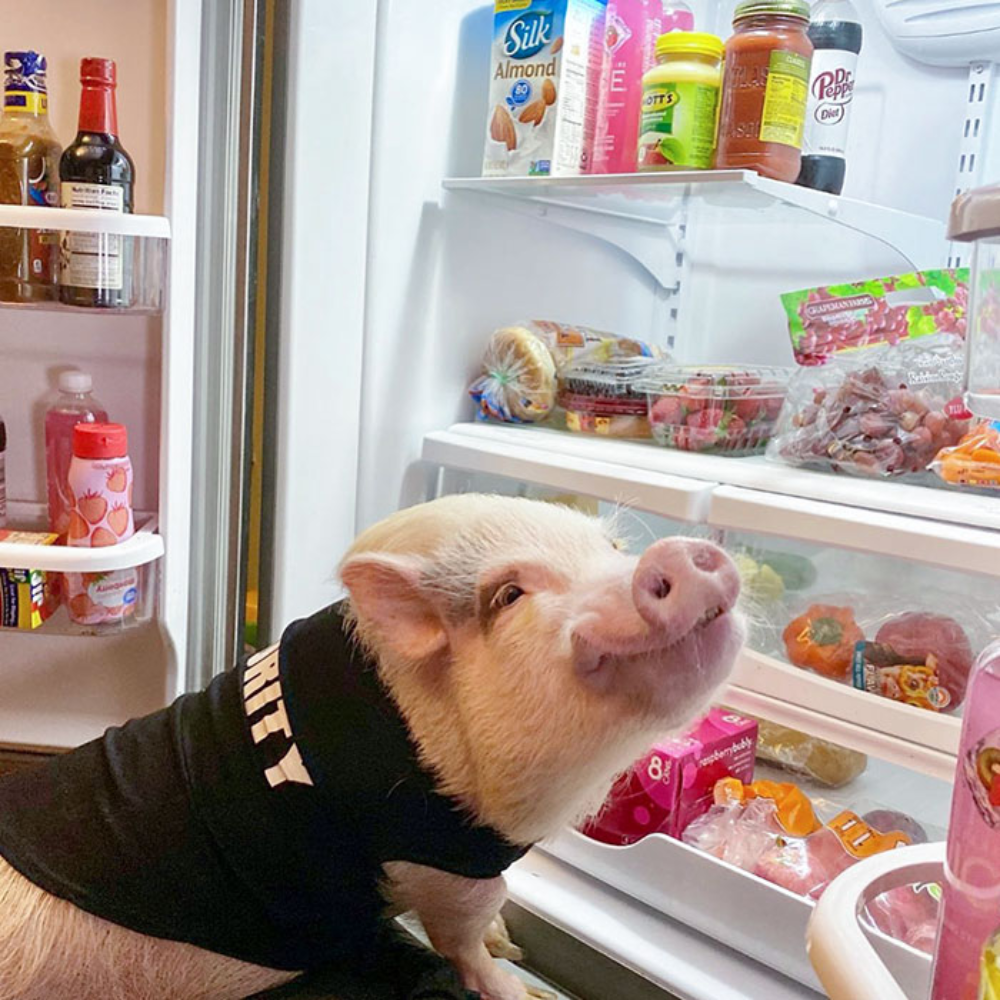 Well, pigs are pretty smart so if they have access to a food source, it's likely that they'll figure out how to get into it. This little guy hasn't quite stolen anything yet but from the looks of it, he's a bit consumed by all the options in front of him.
I Don't Have Anything
Who could suspect a little hamster of a crime? They're just cute and pretty innocent, right? Plus, they're small, so maybe they can't steal as much food.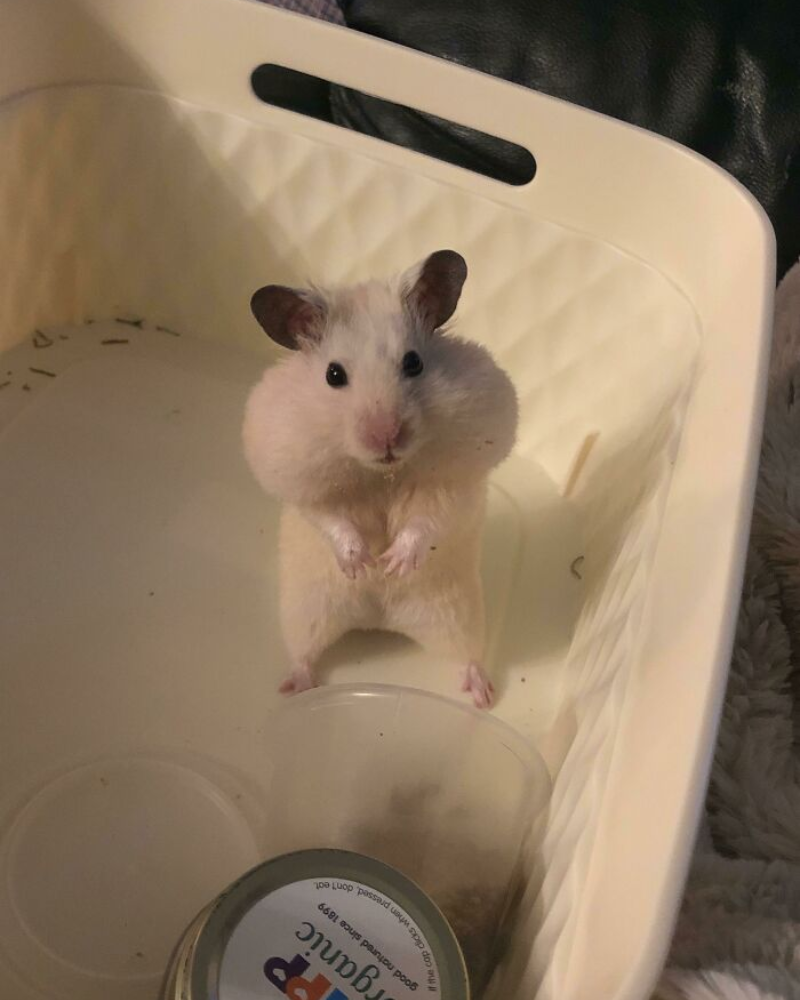 Something about this photo tells us that this guy might have stolen something. Maybe it's the fact that his cheeks are a little puffier that tipped us off. His owner confirmed that his goods are stolen bites of carrot.
He's So Happy
There are some times that your pets steal things and you really don't want to have to take them away. However, sometimes you just have to.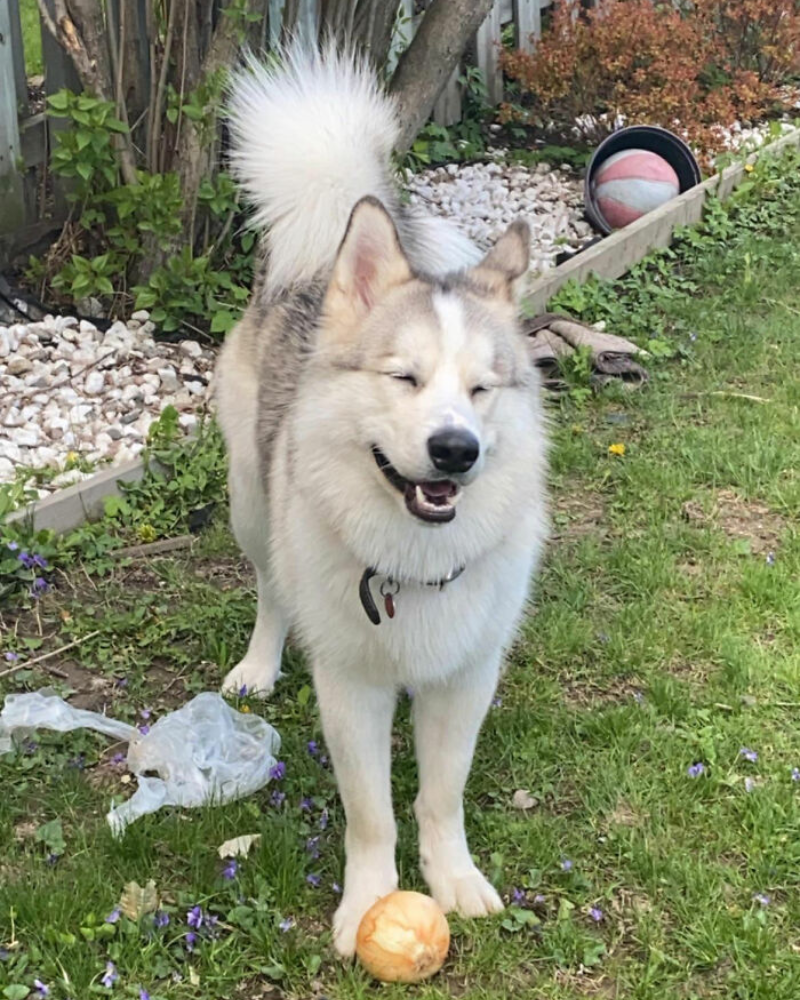 It's probably not in this guy's best interest to keep this onion but look at how proud he is of grabbing it! Judging from the plastic scattered around this guy, he managed to grab it not long after it got home from the grocery store.
A Little Sweet Treat
Remember, you have to defend your food from a variety of pets. This means keeping an eye on even the most unlikely culprits when they're around.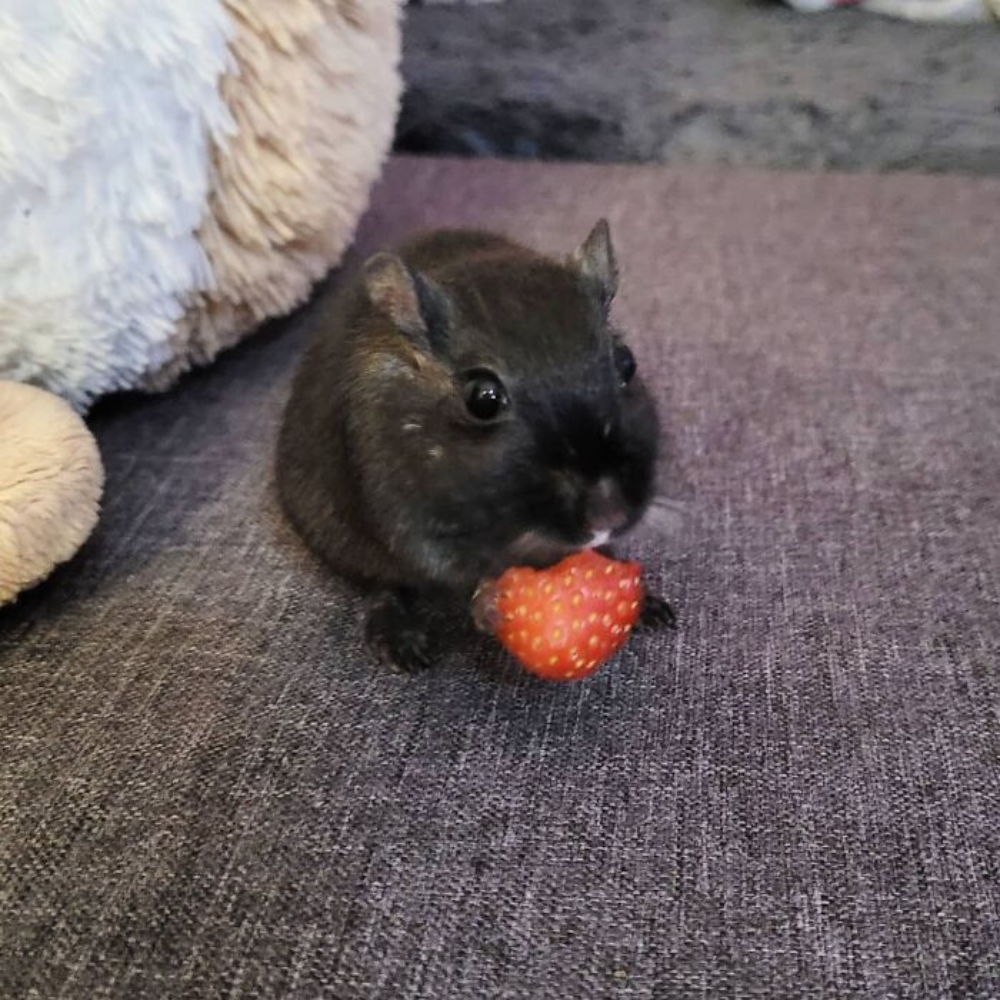 It might not seem like a little pet like this guy could carry some of your food away. However, a stray berry was just his size. Not to mention, maybe being so small makes it easier to sneak near the plate when no one's looking. That's a whole feast for him!
Tasty Tomato Soup
There are some foods that are messier than others. If you eat wings, you expect them to make a bit of a mess, right?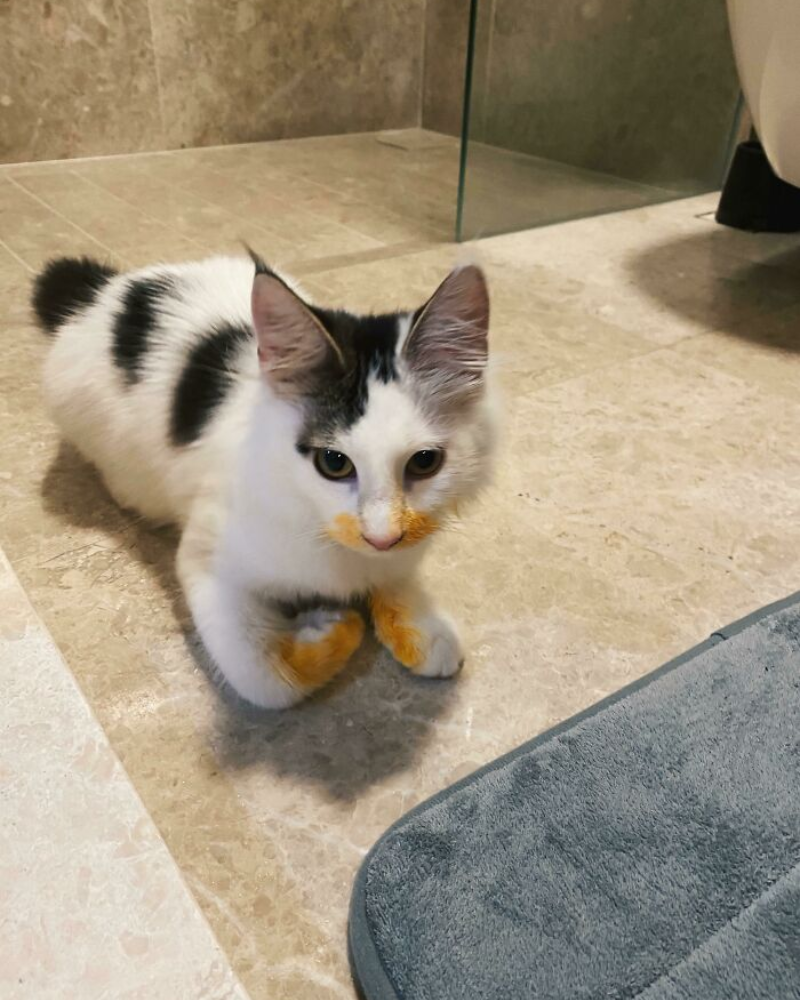 You probably don't think that tomato soup would be one that would make a mess. This kitten didn't quite have the opposable thumbs to use a spoon, though. Monet here was literally caught red-pawed when this family left out some tomato soup. He made quite a mess!
Oh, Hello
There are moments when you're just as surprised to see your pets as they are to see you. Usually, that's when they're committing a bit of a not-so-great act.
This cat clearly wasn't expecting their owner to walk in. Upon hearing something in the pantry, we wonder if this owner immediately expected to see their cat climbing the shelves for food or if it was equally a surprise to them.
Just a Little Thirsty
It's surprising to see some of the things that cats are tempted by. It could even be things that might be available to them already, like water.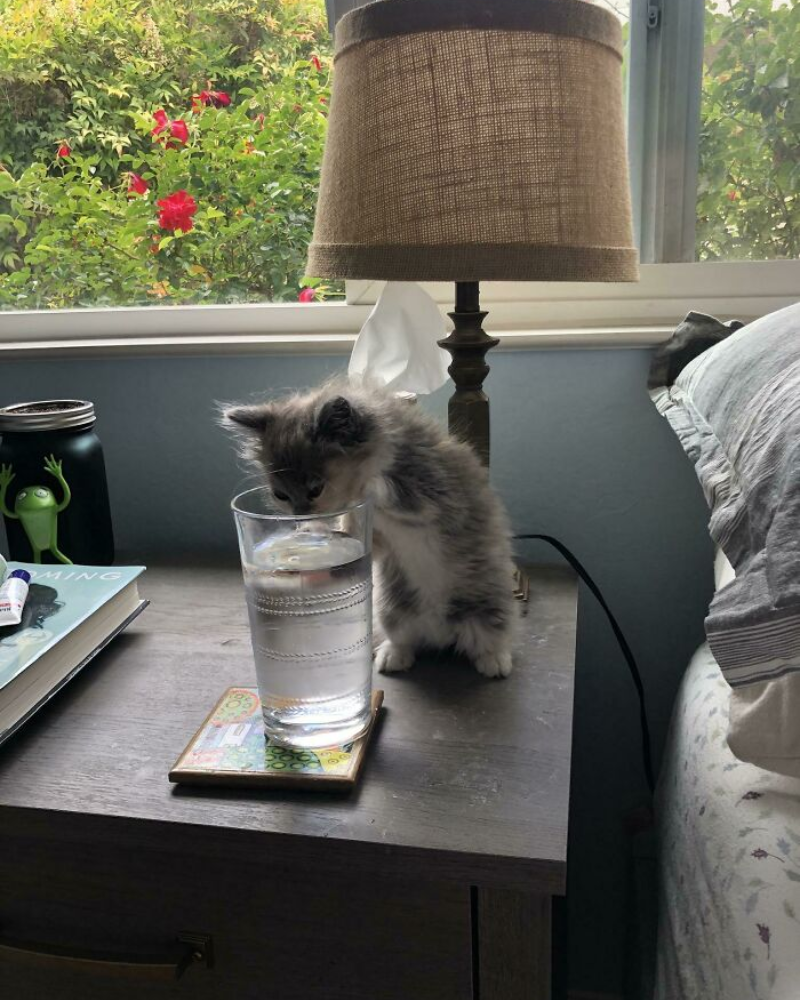 This little kitten probably has access to water of their own. However, they just wanted a bit of what their human was trying to drink. It seems like this glass wasn't quite designed for this baby. She has to get pretty tall to even try to take a sip!
Don't Mind Me
There are some pets that really know what they are and aren't supposed to do. However, a trained pet doesn't necessarily mean that your pet is perfect either.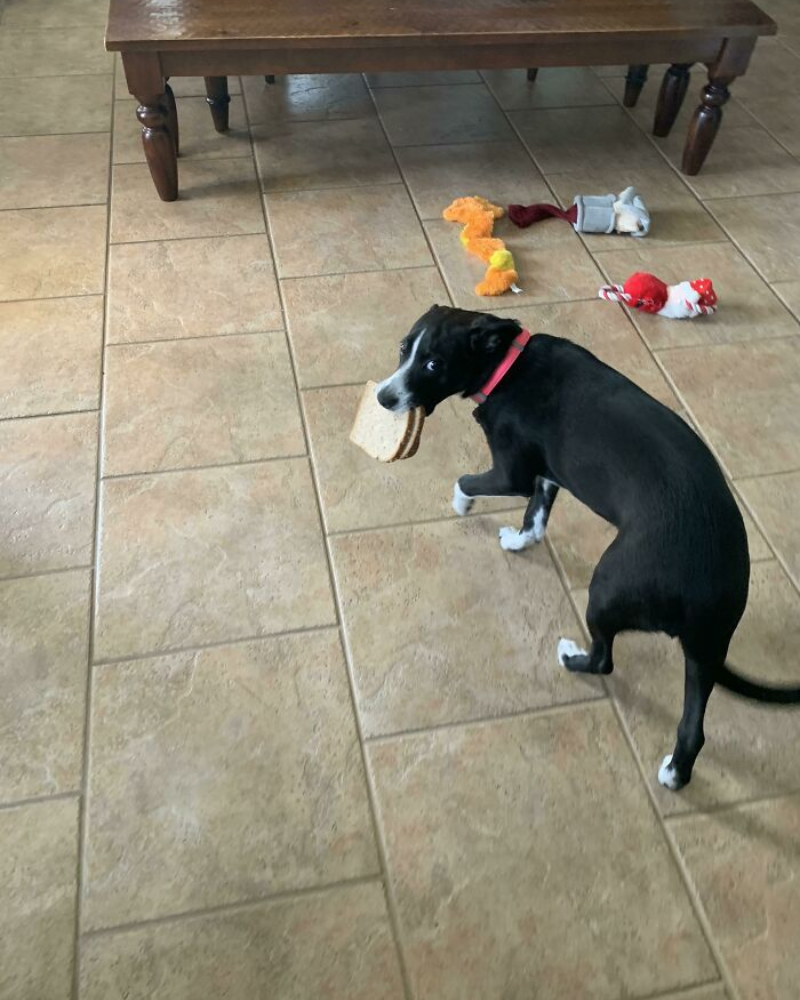 This little pup definitely looks like she knows that what she's doing isn't allowed. Who among us is at their best when they're really hungry, though? This dog was caught with an apologetic look on her face when she was caught trying to snag a few pieces of bread.
Let Him Keep It
There are some things that you see and they're just as surprising as they are bad for your pet to do. Still, you have to wonder if you should just give it to them sometimes.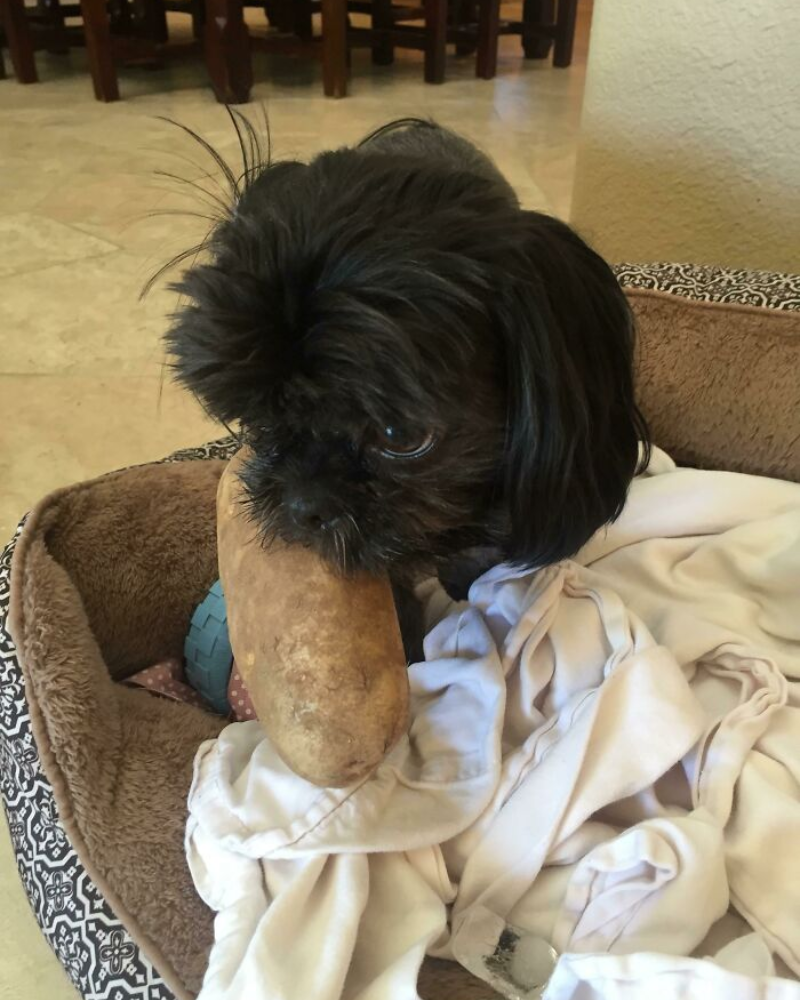 This little guy's name is Charlie and he couldn't be more endearing. He looks so nervous that someone is going to steal his potato back from him, too! Since potatoes aren't so bad, maybe this guy could just keep his prize.
Good Morning
When you're getting ready in the morning, you probably rarely want to skip breakfast. Who wants to wait until lunchtime to eat?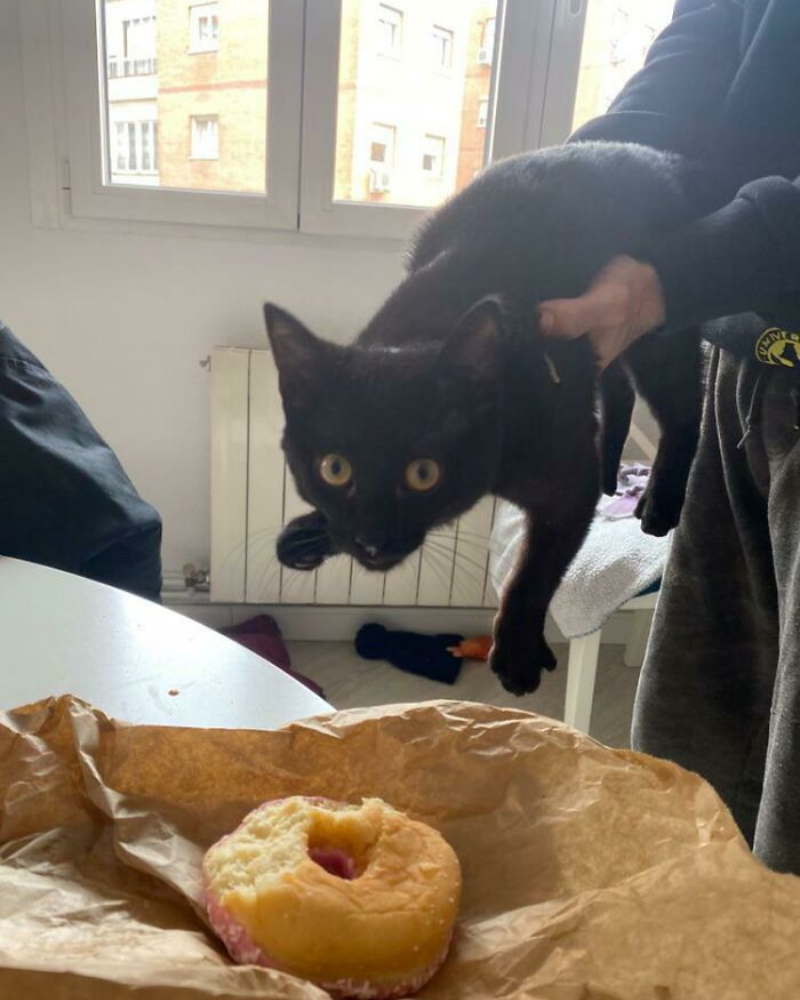 It seems like one morning this cat wasn't really happy with the usual rounds of wet food. At least not with something as tasty as this out in the open. It looks like he was literally caught in the act and pulled away from his stolen doughnut.
Just Saying Hi
There are times you catch your pets red-pawed before they even do anything. They have expressive faces and they can reveal a lot in a look!
Based on this guy's face, he was heading for the taquitos sitting on the table. Yet, it seems like this picture was snapped just before he had a chance to follow through on his plans. Look at that apologetic face!
That's Where That Went
When a dog or cat steals your food, it often triggers a chase to ensue as you try to get their treats back from them when they take off with it.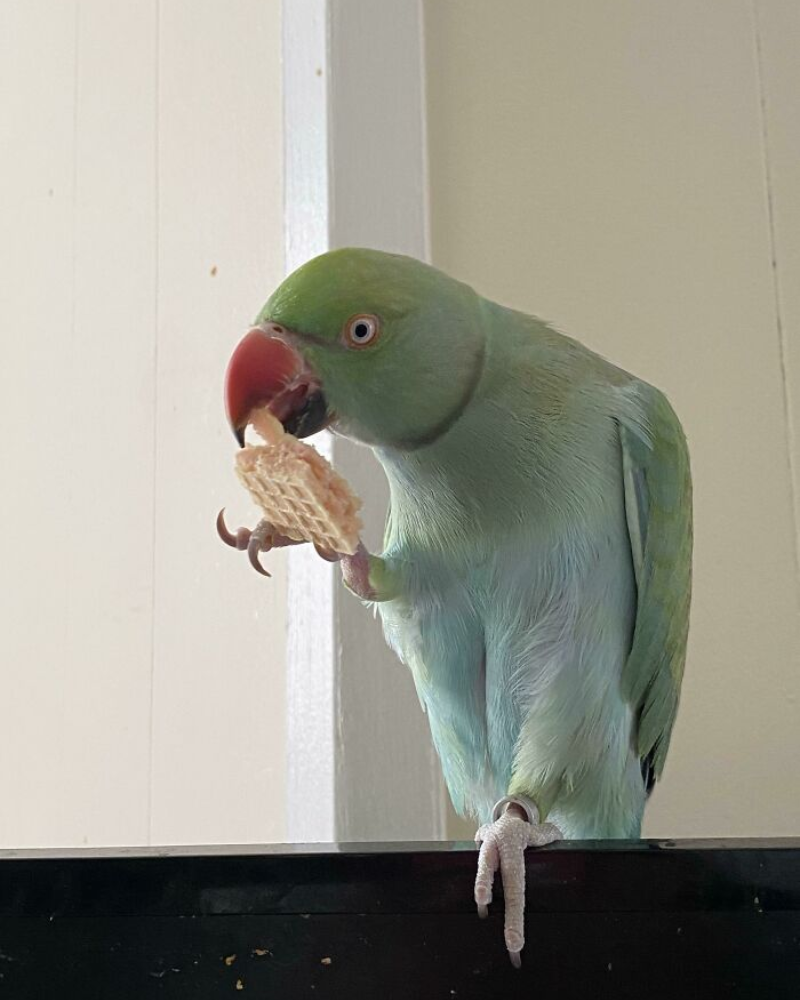 The only thing that would make that harder is if your pet could fly away with your snacks. We guess that's something that this bird could do to their owner. It must be easier to steal a snack when you can fly high above your owner's head.
The Stem Is for Carrying
There are some fruits that have a natural place to carry them by. Oftentimes, this is a trait associated with fruits and veggies.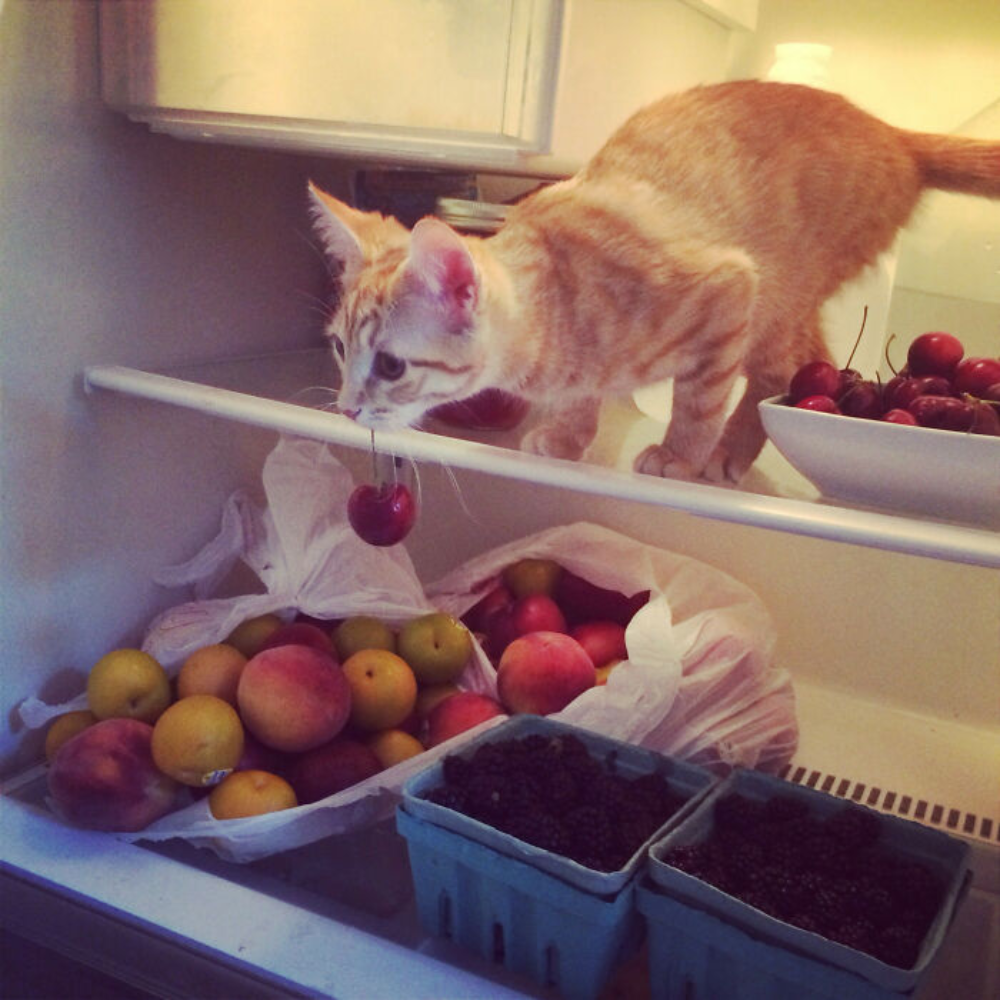 Take cherries, for example. Why would they have a stem if you weren't supposed to carry them away? Okay, so maybe there's a botanical function to them too but we can't really expect that little kitten to know that.
Feeding the Family
No matter how domesticated your cat is, you might see its natural instincts come out in surprising moments. Sometimes, it can really catch you off guard! These little kittens are a great example of instincts at work.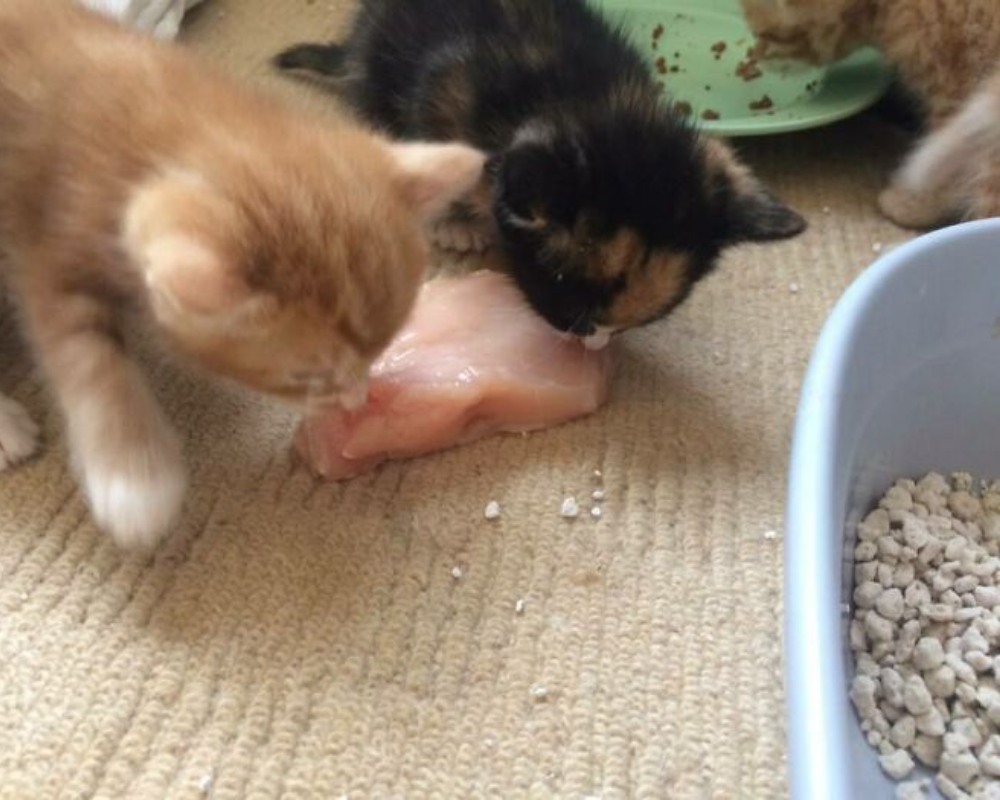 Not so much from the kittens as their mother. When this cat had her kittens four years before their owner shared this picture, she went out hunting and managed to catch a chicken from the next-door neighbor's counter.
Just a Little Snack
Sometimes, your dogs don't want much in their theft. They just want a little taste of what you're enjoying to see if they like it.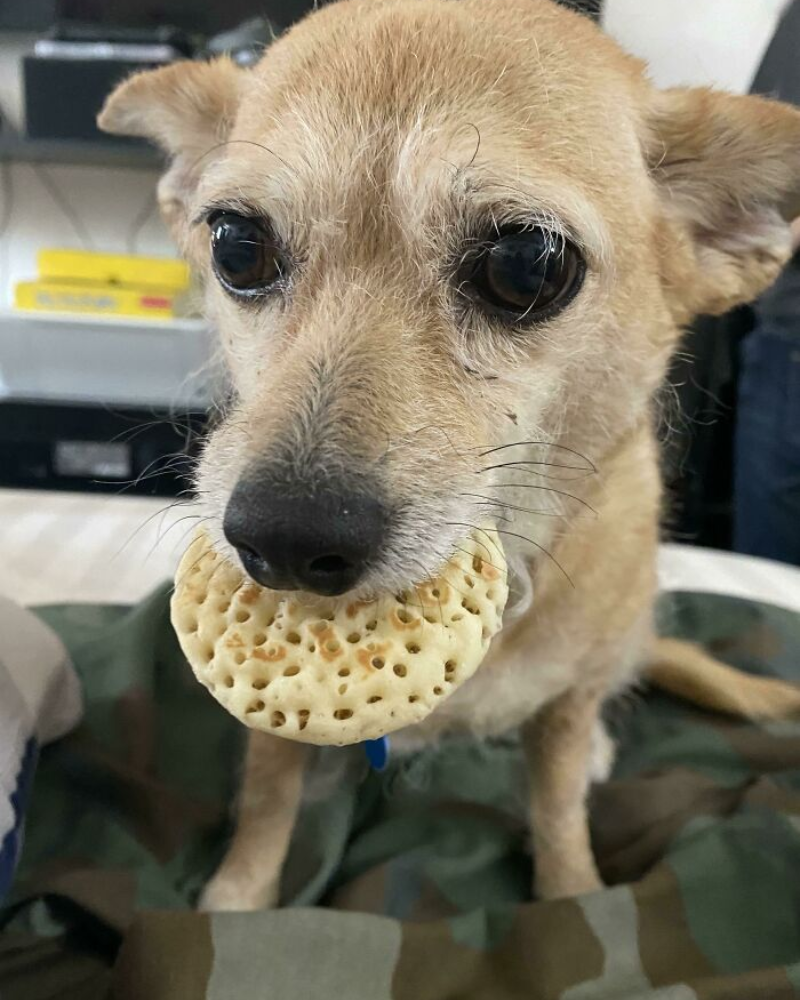 When this little guy saw his owner making a mini pancake, he must have thought it was for him. It's just his size, right? So he snagged it right off the plate even if that's not necessarily what they were supposed to do.
Thanks for the Peanut Butter
There are a few treats that it seems like dogs love universally. Peanut butter is one of those treats that they tend to really adore.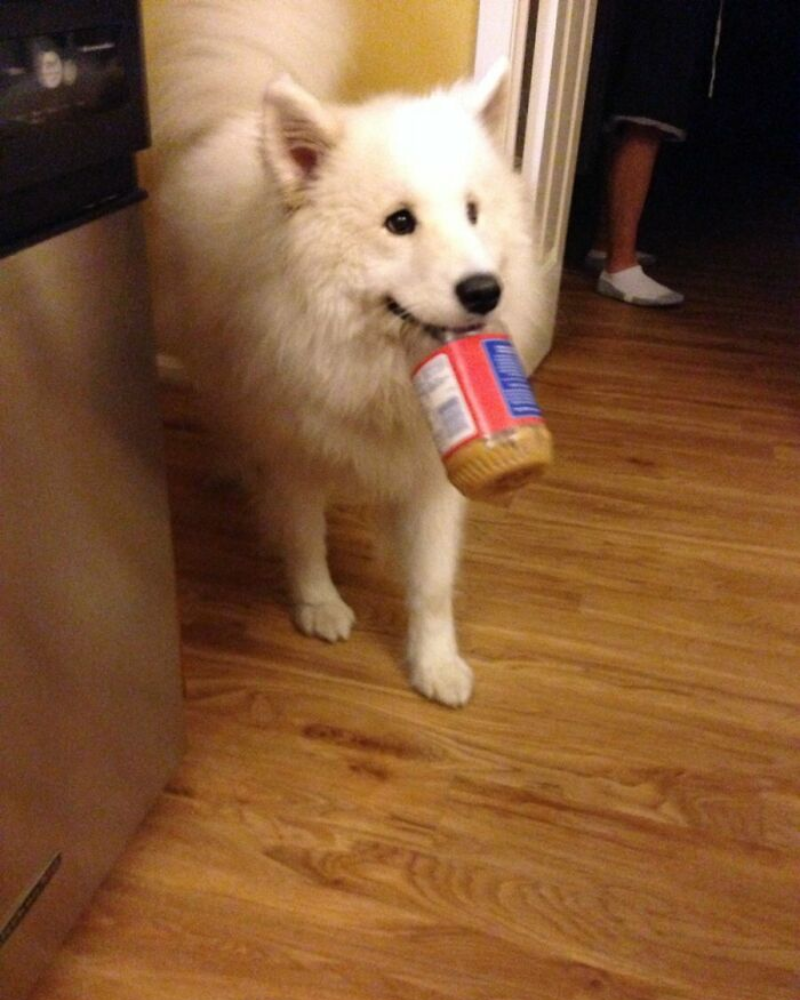 So, when a jar of peanut butter was left within this guy's reach, he knew he had to take a bite — and who can blame him?! Anyway, with a long snout like that, he could probably almost reach the bottom.
A Little Stuck
There are times when it seems like cats get a bit stuck in what they're doing and need your help. This cat just wanted a few chicken nuggets.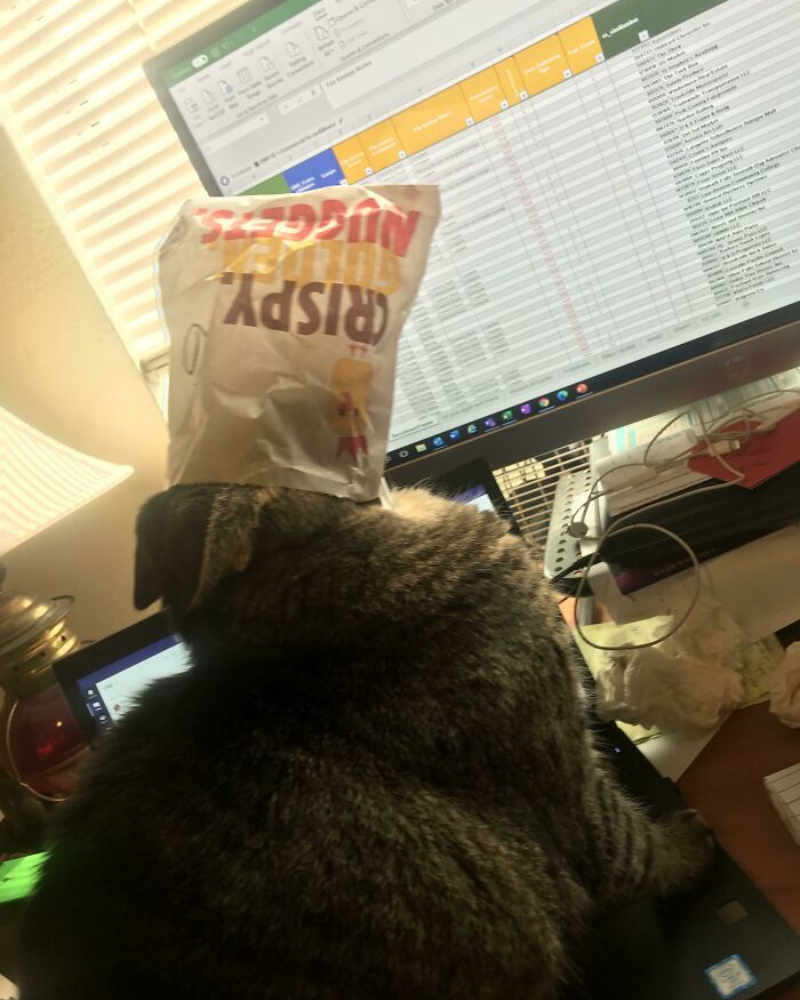 With them sitting there right in the bag, it seems like it was easy pickings too. The only problem is that they dove in without an exit strategy. They were caught red-pawed or, more specifically, with their head stuck in the bag.
Not Worried About It
There are some pets that try to sneak their stolen food off to somewhere quiet. On the other hand, not all pets are quite as concerned.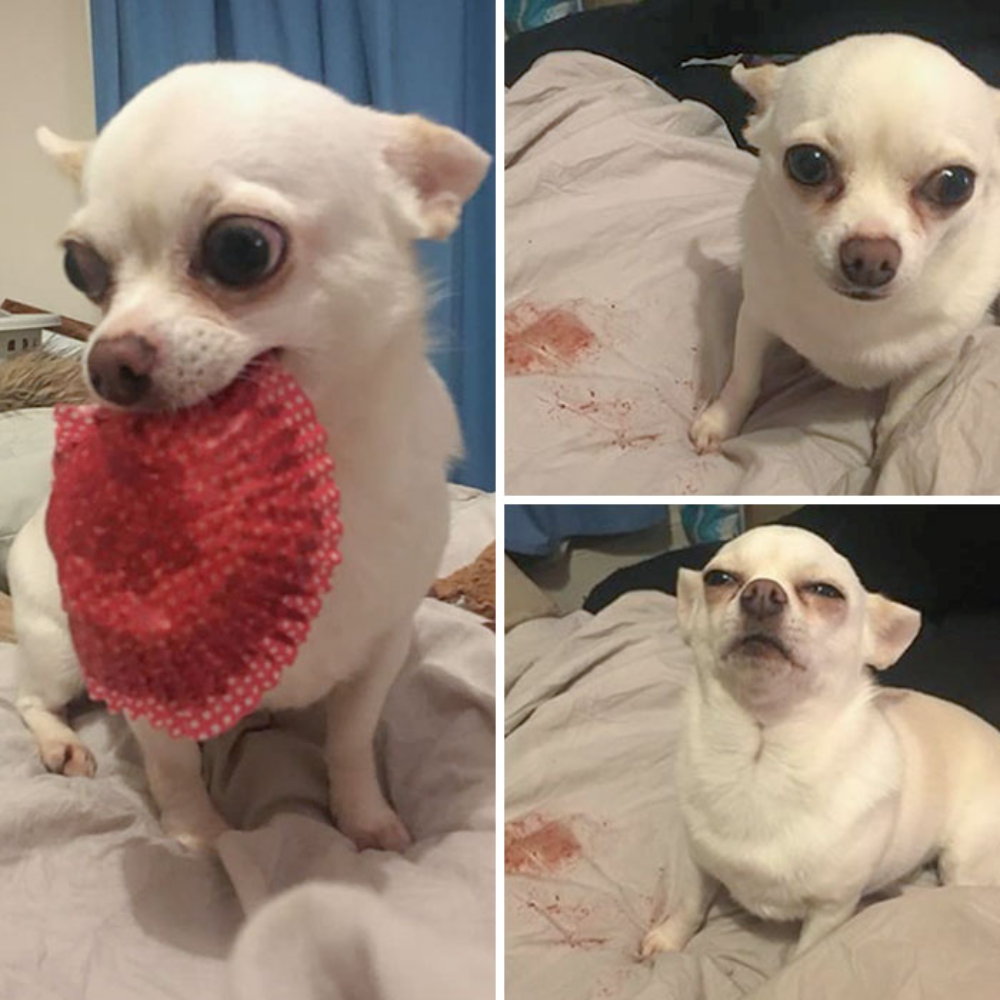 This little chihuahua's name is Lola and she saw her opportunity when there was a cupcake wrapper left in her reach. There's still a little bit of a snack on that! She even managed to get it into her mom's bed to make a mess she doesn't look too ashamed of.